American Fyre Designs is a leading designer of ultra modern fire features. As fire pits have become a mainstay in most any contemporary outdoor living space, new and innovative designs have evolved to add a truly unique touch to modern homes. Outdoor living areas are one of the favorite locations for parties and gatherings, and there are now many options to add comfort and design features that are not available indoors.
American Fyre Designs fire features have become the standard in new and ultra modern fire designs, with a variety of styles and textures to suit your decorative needs. Need a fire pit that also serves as a table? We got you covered. Want to combine fire and running water to wow your guests at patio parties? We can do that, too. Recent products such as the wide Fire Bowl and Fire Urn products help you to enhance your outdoor living experience.
Fire Bowls and Pedestals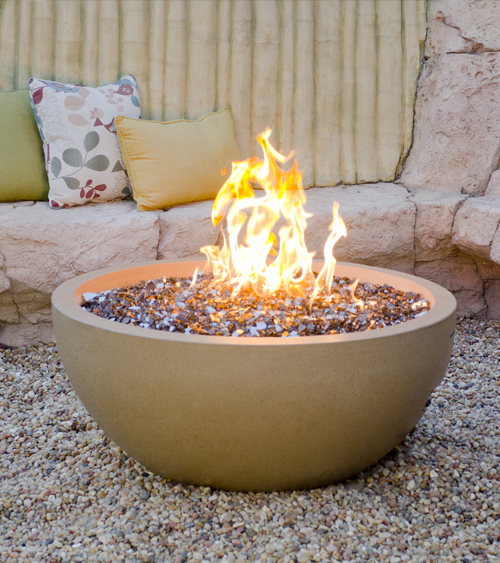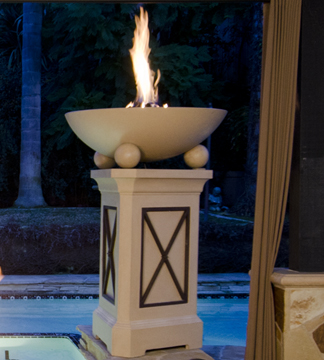 Our fire bowls will give your backyard a sense of epic royalty. Choose from four statement colors, including Cafe Blanco, Sedona, Black Lava or Smoke. Use these fire bowls as a surround for your pool, or your pergola, and your back yard will have a Mount Olympus feel, suitable for Zeus himself. Choose from Volcanic Stones, Laval Coals, Lava Granules, Diamond Nuggets, Fyre Gems and Fyre Glass—all with multiple colors to choose from to suit your style for the fire bowl's filler.
Fire Urn
For another majestic design option, the Etruscan Fire Urns could be an ideal choice for taking your pool parties and outdoor lounging to the next level. These beautiful fire urns make a statement, and come in colors that have a heavy-textured finish. The urns will develop a patina—a gloss or sheen created by metal oxidization—giving the urns a rustic feel, and guaranteeing that yours will be unique! Each urn also comes with a stainless steel burner, hose and regulator. You can store the propane inside, so it doesn't take away from the look and feel of the urn. The options are nearly endless for the fire urn's filler, and you can choose from the same fillers as the fire bowl.
Visit a showroom today and see the new products from American Fyre Designs in person!