Commercial & Residential Properties in the Denver, CO Area
Bring us your custom ideas for a fireplace or fire pit for your facility and let us turn that vision into a warm and inviting fire feature for your space. Contact us today to put our experience to work for you.
Modern fireplace and hearth technologies allow for a wide array of design options for custom products , giving architects and designers the freedom to realize a nearly any fire feature to match their vision. Designing and building unique and highly customized fireplaces is a specialty of Home & Hearth Outfitters.
Home & Hearth Outfitters takes great pride in bringing our customers fireplace ideas to life. Through our relationships with leading fireplace and insert manufacturers, we are able provide complete fireplace design and installation services, including custom designed projects. Once we understand your needs, we work directly with our partners to build and design a solution that provides the right aesthetics, durability, safety and value for your application. Whether that means installing a single stock fireplace or developing and installing a custom sized fireplace insert, we have the expertise and resources to take care of you. Size, scale media and materials used in coverings can be fully customized to match any design.
We provide custom solutions for unique project requirements
We have the experience and products to create the custom solutions for any project. You'll receive a free in-home estimate and design consultation with one of our National Fireplace Institute (NFI)-certified technicians, to you know up front the total requirements and cost of your custom gas, electric or wood fireplace project.
Expert knowledge and products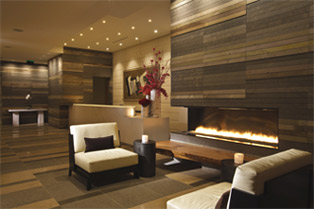 Through our relationship with Montigo, we have access to a wide range of non-standard product options that are perfectly suited for many custom builds. These solutions have allowed us to incorporate custom fireplace designs into many high-end residential, commercial and hospitality industry clients to create a finished product that is truly unique and special. Whether you are looking for a contemporary linear, custom see-through, peninsula, four-sided or single-sided design, Home & Hearth Outfitters has the resources and experience to help create the perfect custom fireplace design.
When it comes to designing and installing custom fireplaces, our experience and expertise is among the top in Denver. Our long list of satisfied customers includes hotels, resorts, restaurants, spas, healthcare facilities, office spaces, sports stadiums and all manner of public spaces throughout Colorado.
Schools, hotels, restaurant and resort installations
From world class resorts to high end restaurants to the most well-known sporting venues, if you have spent any time in Denver or Vail, you might have witnessed our installations which include:
Broadmoor in Colorado Springs
Four Seasons in Denver and Vail
University of Denver
Landmark Towers Greenwood Village
Elway's Restaurant
Hacienda Restaurant
The Rock Pizza Restaurants
Cherry Hills Country Club
Denver Country Club
Colorado Golf Club
The Tenth Restaurant Vail Mountain
St. James Hotel Beaver Creek