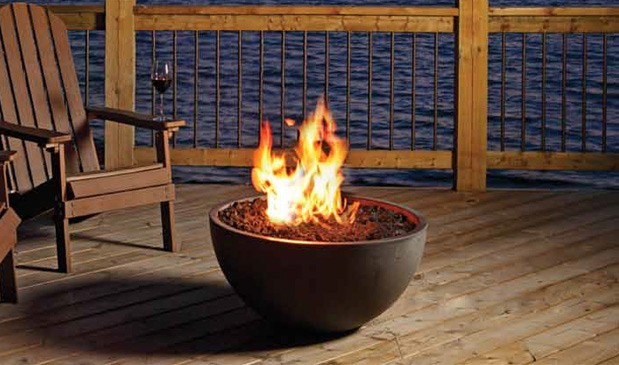 If you are looking for the romantic ambiance of an open fire on your patio or outdoor deck, you have a number of different options. One is to simply run down to the local "big box" store or home and building center and pick up an inexpensive fire pit. It's a quick and easy solution, but these products are not especially durable – nor are they the best choice for safety. Plus, your fuel options are limited – basically, often it's firewood or nothing.
Home & Hearth Outfitters has more flexible options that offer much more in the way of quality and safety – such as the Bola Outdoor Gas Fire Bowl from Marquis. The Marquis Collection comes from a manufacturer with over three decades of experience in fireplace construction.
The Bola runs on either clean burning propane or natural gas – no need to gather messy and smoky firewood – and comes with lava rocks, fireglass or our own proprietary decorative stones.  As long as you have two feet of clearance on all sides and any kind of roof or overhead cover is at least seven feet above the top of the fire bowl, the Bola is the perfect way to have an open fire on your patio or outdoor deck.  The Bola comes in your choice of two attractive finishes as well as a five foot hose and regulator for use with your own gas tank. You can also purchase a cover for the fire bowl to protect the interior when the product is not in use.
In addition to the Marquis Bola, you'll find a number of other outdoor fireplaces and firepits from top manufacturers in our online catalog – in fact, there are nearly seventy different styles and models from which to choose.  (Please note: not all of our outdoor fireplaces are available for out-of-state delivery. Please give us a call or visit the Firepits page under "Outdoor Living" to learn more.)