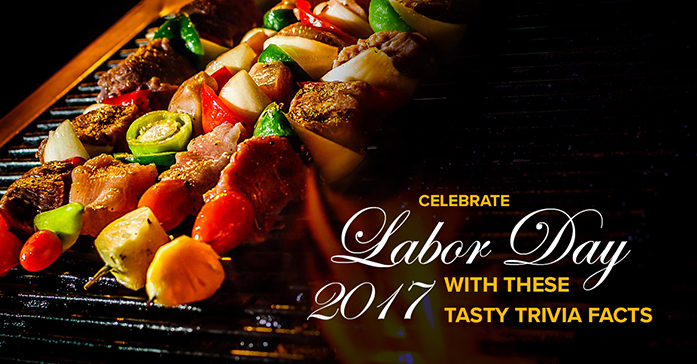 Summer technically ends on September 21, but September 4 marks the unofficial end of the 2017 season. Why? Because it's Labor Day — and we're ready to celebrate!
The holiday dates back to the 1800s as a way to celebrate the strength and hard work of the U.S. labor force, but these days it's more about food and fun (and a day off from work!). We know you can't wait to kick back on the patio with good friends, great food and a tasty brew or two, but hopefully we can tide you over with a few tasty tidbits about Labor Day.
Grilling is the most popular Labor Day activity!
Barbecuing is the most popular Labor Day activity, with over 210 million people planning to fire up their grills during the holiday. Most of those planning to grill live in the Eastern United States, but a good chunk of people living in the South and Midwest will cook up some tasty grub on their outdoor grills, too.
Hamburgers vs. Hot Dogs, which is more popular?
Everything tastes a little better cooked on a grill, but hamburgers are — by far — the most popular Labor Day food, with hot dogs coming in second (Labor Day marks the end of hot dog season, according to the National Hot Dog & Sausage Council).
Surprisingly, barbequed chicken is more popular than steak or ribs during the holiday.
Not sure what to grill? We've got you covered. Get your mouth watering with some grilled hamburgers , barbequed chicken or hot dogs. And don't forget the side dishes to go with those grilled masterpieces! We've rounded up 16 BBQ side dish recipes to get you started.
Beer is the beverage of choice
Wash down all those tasty eats with a brewed beverage — but make it a domestic. A 2016 survey by beermaker Budweiser found that people who drink domestic beers seem "more approachable" than those who only drink imported brews.
Don't fret if beer's not your thing. There are plenty of other tasty thirst quenchers — both alcoholic and non-alcoholic — to serve at your Labor Day bash.
What to do after the Barbeque
We know, we know: Grilling is the most important part of the holiday. But, what do you do after filling your belly with grilled goodies? See a movie! Thirty-six percent of Americans plan to unwind by watching a movie on Labor Day, either in the theater or at home.
Shopping, boating — and even napping — are also popular activities during the Monday holiday. Kids might also enjoy the various parades (and candy!) that pop up around the United States on Labor Day. One of the biggest happens in New York City every year just 20 blocks from north of the labor march that helped start the holiday.
No matter what you do this Labor Day, make sure it's relaxing. You work hard during the year and deserve this day off to celebrate and unwind before the busy fall and holiday season starts. It's what the founders of Labor Day would want!