Nothing says summer like a delicious barbecue dinner, surrounded by people you care about, cold drinks, and tasty grilled food. From burgers to zucchini, you can make just about anything this summer, all in the comfort of your own backyard. But one question inevitably remains up for debate: gas or charcoal? If you haven't decided where to place your barbecue loyalty, you are the target audience for the age old gas v. charcoal debate. Both types of heat will cook, and each has its unique set of advantages. To make your life a little easier, we decided to round up the pros and cons of both gas and charcoal so you can pick a side.
Charcoal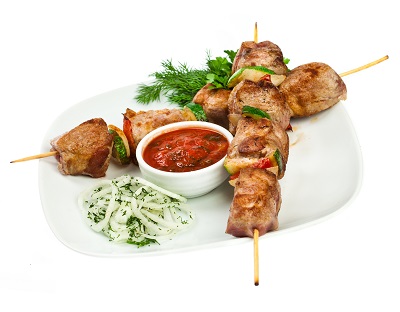 Fuel: Charcoal grills run on heat from charcoal briquettes. The black squares are relatively easy to light, as long as you have developed your technique (pyramid stacking, lighter fluid, and a lot of fanning is my personal technique). While the bags of charcoal could end up costing more over the years depending on what type of gas grill you compare it to, there's something about charcoal that people love.
Taste: A summer classic, charcoal grills offer smoky taste and a crispy grilling experience due to the extreme heat. Barbecue snobs will tell you that charcoal grilling is the way to go purely for taste reasons. That classic coal heat gives you searing, grill marks, carmelization, and all the good stuff people associate with backyard dining. Cooks, who naturally love to experiment, can add different woods to the coals to bring out different flavors in their meats. If you're going to be doing tasty experimentation on your food – or just are fascinated by lighting a fire and watching it work – a charcoal barbecue may be just the ticket. Charcoal grills also have the advantage of being far easier to lug around than a gas grill. Usually, these grills are standalone units with wheels and are smaller and more portable than their gas-fueled cousins. If you know that your barbecue will be on the move – hopping between backyard barbecues, outdoor block parties, and your favorite campsite, you may want to opt for a charcoal grill. Home & Hearth Outfitters features the entire line of Primo charcoal grills – in all shapes, sizes, and styles. From big oval beauties, like the Primo Oval XL, to the highly convenient Primo All In One, there's a perfect grill for every backyard chef.
Gas Grills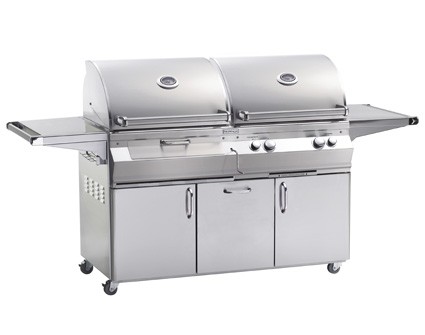 Gas grills are an easy way to cook outdoors. They are convenient to use (just press a button, in some cases) and definitely deliver in the heat department. In fact, a gas grill can give you the same delicious food as a conventional barbecue grill. One disadvantage is the fact that gas grills are normally more expensive to purchase – but over time, your investment pays off. This brings me to my next point:
Fuel: It's much cheaper per use to choose a gas grill. Propane or natural gas are both cheaper than those barbecue briquettes. You have to use a whole bag of coals to get a good heat, even if you just want to cook a few hot dogs for two people. Think about all the bags of charcoal you need to buy over the lifetime of your grill versus the fewer propane tanks you will be filling when using a gas grill.
Taste: Purists are going to try to convince you that charcoal is the only way to go. But they are wrong. Gas grills can give you delicious seared meats, the same as a conventional charcoal-fueled barbecue. Many gas grills are compatible with wood chips, if you need to add some smoky flavor to your cooking. They are often bigger, too, which provides more space for indirect heat and more food! But that size does come with another disadvantage – a lot of gas grills are bulky and hard to move. Many are even built in to natural gas lines and outdoor kitchens. This problem can be solved by purchasing a smaller gas stove if you are ever in dire need to take a gas grill on an adventure.
The Bottom Line
It is really up to you to choose the grill that will work best for your outdoor cooking needs. Everyone has a different idea of that perfect backyard meal, and how to cook it. Now is the time of year to make a decision. Perhaps taking a tour of neighborhood parties will kick start the decision process. Sampling food and watching prep at numerous summer barbecues should help you come to your own conclusion. Home & Hearth Outfitters has your grill needs covered. Our premier line of charcoal grills, Primo, has a barbecue for every type of backyard chef. The Primo brand makes small, large, round, oval, and all-in-one products, and is a durable ceramic barbecue that runs on charcoal. If you decide you want to venture into gas grill territory, Home & Hearth Outfitters carries a number of superior brands including Swiss Grill, Delta Heat, Fire Magic, and Napoleon. If all of this sounds a little complex, visit our online store (or better yet, a showroom if you are in Denver or Vail) to see our products.