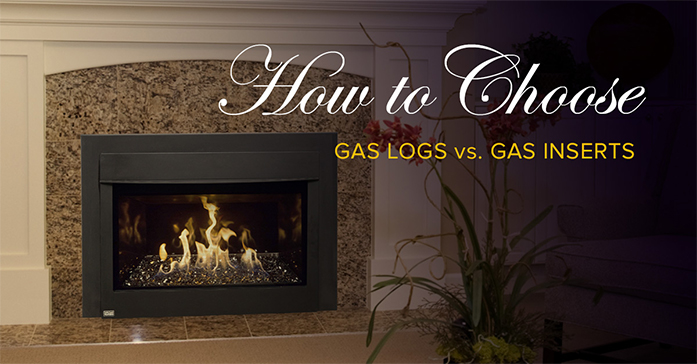 Fireplaces create a cozy and warm atmosphere in your living area and nothing beats the crackle and snap of burning wood on a cold, winter night. But many homeowners tire of the effort required to maintain a wood-burning fireplace, including hauling or stacking wood and cleaning up ash afterwards. If you are considering switching to a gas fire place, read on to learn more about gas logs versus gas inserts before you make your purchase. Either product will certainly be more convenient, enabling you to heat your home with the flip of a switch.
What Are Gas Logs?
Gas logs are decorative in nature. This style of fireplace is designed to look like burning wood and can be installed in your existing fireplace opening. Many homeowners like the realistic look of the fire logs and the ease of using the gas logs, which can be operated manually using a wall switch or a remote control. Gas logs will also emit more heat than a wood burning stove. Gas logs are less expensive than gas inserts, which is helpful if you are working within a budget when upgrading your fireplace.
While gas logs produce ample heat and have aesthetic appeal when producing a nice flame, it is important to consider the following:
Gas logs are only about 10%-20% efficient, with the majority of heat produced escaping through the chimney. (The same is true with a traditional wood burning fireplace.)
Gas logs must be installed in an existing, working fireplace opening – meaning the fireplace masonry and chimney need to be in good working order.
Air quality in your home can be compromised if your gas log set isn't vented properly.
You may need to purchase additional materials, such as glass doors, to complete the installation. This is an important, and sometimes mandatory, safety feature.
What Are Gas Inserts?
Like gas logs, gas inserts can be installed in an existing pre-fabricated or masonry fireplace and ventilated through the existing chimney. Gas inserts are furnace-rated appliances, which means that they can be used as a zone heater focused on heating a specific area or your home. Gas fireplace inserts are installed as a sealed system with a glass door. As a sealed system, no air from inside the home will escape through the fireplace or chimney, making this fireplace option more energy efficient. A gas insert also features a blower that pushes warm air into the room for more powerful heating, as opposed to just radiating heat out naturally. As a result, gas inserts are much more efficient heaters than gas log sets, with efficiency rated between 70%-85%.
Gas inserts are available in a variety of sizes and heating capacities, so you can purchase and install one that suits the heating needs of your specific living space. Typically, gas inserts are capable of heating spaces that range between 1,000 and 3,000 square feet. An added benefit of gas inserts is their safety, with direct-vent gas inserts being the safest. Direct ventilation draws air from outside of the house to operate and directs any gases or moisture generated by the fireplace out through a ventilation system (rather than a traditional chimney). Air quality in your home is most secure with a direct-vent gas insert. Once installed, gas inserts require little maintenance other than an annual service check-up.
While gas inserts are more efficient, it is important to consider the following:
Gas inserts are more expensive to purchase and install.
While more efficient, ventless gas inserts may compromise the quality of air in your home. (This is the reason many homeowners opt for direct vent systems.)
Gas insert installation may require gas plumbing modifications prior to installation.
When shopping for a new gas fireplace solution, it is essential to do your research as it relates to building codes so that you install the proper system in your home. This is especially important when it comes to ventilation. If not properly vented, a gas log set or ventless gas inserts may emit gases and moisture into your home, which puts you at risk for dangerous carbon monoxide levels.
If you are interested in simplifying your home heating method or upgrading and updating your fireplace by installing gas logs or a gas fireplace insert, you will experience the convenience and luxury of enjoying warmth with the touch of button.