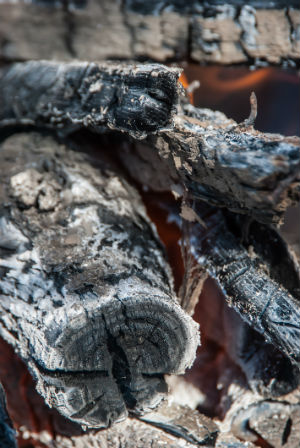 Spring has officially arrived! The birds are chirping, we're enjoying longer days filled with warm sunshine, and Coloradans are anxiously awaiting the beginning of a long, warm outdoor season. Springtime also means trading in your indoor fireplace for one of the outdoor variety.
Many people have wood-burning fireplaces in Denver, but not everyone knows how to clean their fireplaces and keep them in good repair. Wood-burning fireplaces require a bit more work than gas fireplaces, but they are well worth the effort. The end of winter is the perfect time to get your fireplace or wood-burning stove clean as a whistle and ready to fire up next fall.
1. Make sure the ash in your fireplace is completely cool before you begin
Waiting at least until the morning after your last fire will keep you safe from burns and accidents. Remove the grate or rack in the bottom of your fireplace and place it outside. Slowly scoop the ash from the floor of your fireplace into a metal bucket or use a shop vacuum to get it all out.
2. Half the job of cleaning out your fireplace is prep work.
This is a messy endeavor so be sure to dress for the job. Wear some old clothes and be sure to put on a pair of gloves to protect your hands. Depending on how enthusiastically you'll be cleaning your fireplace, you may also want to wear a dust mask to prevent breathing in any soot or ash. Cover the floor and any nearby furniture with inexpensive, plastic drop cloths to protect against stains. Next, line the floor of your fireplace with old newspapers, making sure they go several inches up the wall of your fireplace. The newspaper will catch any falling soot and ash that you dislodge during the cleaning process.
3. Use a flashlight to look up into your chimney and make sure the flue is open.
 The flue is the small metal door near the top of your chimney that can be opened and closed using a metal control. If you see creosote (flaky material or shiny, black deposits) while peering into your chimney with the flashlight, it is time for a good cleaning.
4. Scrub!
Let's do this! You'll need an 8- to 10-inch brush on a flexible pole to reach the top of the flue. These can usually be found at your neighborhood hardware or home improvement store. Now, scrub your little heart out and put some muscle into it. This might be a good time to replay that Mary Poppins chimney sweep scene in your head. (Step in time, step in time…)
5. Mix one cup of bleach with a gallon of warm water in a bucket.
Dip a sturdy nylon or wire scrub brush (like the one you'd use to clean your grill) into the bucket and scrub the interior of your fireplace starting as high as you can reach and working your way to the bottom. Replace your cleaning solution as needed until your fireplace is free of debris.
6. Rinse your fireplace with clean water
You're almost done! Carefully dispose of the newspaper liner holding the soot, ash and creosote that you dislodged from your chimney. Now, rinse your fireplace with clean water and wipe down with paper towels or old rags. Gather up your drop cloths and toss them in the trash. While your fireplace is drying, you can head outside and enjoy the sunshine while you scrape the gunk off the metal grate or rack so it's as clean as the fireplace.
Congrats! You've just cleaned your chimney!