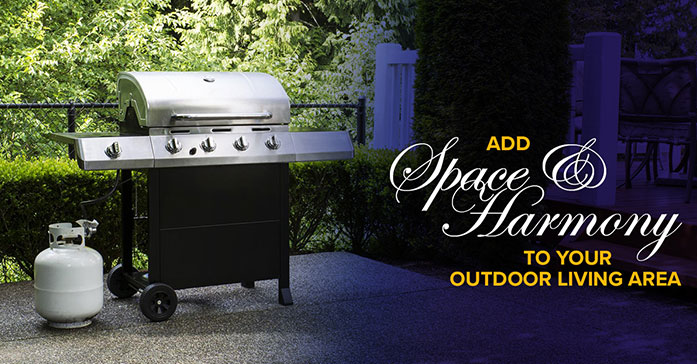 Whether you have a small balcony or a vast backyard space these tips will help you add splendor and allure to your outdoor area.
One way to add value to your space is to establish traffic patterns in a variety of ways from adding formal walkways, creating shifts in hardscape materials, or even the planting of shrubs or trees to form corners/borders.
You might also consider installing a fire source in your outdoor space; this will create a warm place to gather and socialize. Fire sources are perfect for both large and small spaces because they range from full fireplaces to a portable fire pit, just make sure to check your local building codes regarding fire-safety before you invest.
Including a variety of seating options ranging from benches to small couches, lounge chairs, and even stools gives your outdoor area a sense of complexity and assortment of options for all of your guests. Many seating styles also offer scaled-down kid versions to accommodate your little ones. One thing to be cautious of is not including so many types of seating that you pay disrupt traffic patterns and compromise the flow of your space.
It's important to establish a focal point in your outdoor space whether it's a fountain, a sofa, a piece of art, or some other object for your eyes to land on. Creating a focal point is crucial to the arrangement of the space as you can use your other furnishings and accents to support that piece in a harmonious fashion.
In spaces that are a bit larger a pathway encourages the idea of discovery in your backyard. Adding a gently curve in the design transforms the path into a walkway that inspires exploration leading you from your sitting area into your tranquil garden space. Adorn your walkway with vine-covered archways for extra enchanted feeling.
The use of colored pots to brighten up your outdoor living area is important in both small and large spaces. Pots come in many different shapes, sizes, and textures that add depth to your outdoor space. Place them in a few different corners of a deck or a patio to establish borders. Pots also add a sense of seasonality to your space as you may change the flowers blooming within them to match the floral pairing for any time of year.
Because space is king in outdoor living areas it is important that furnishings offer utility as well as decoration. Try installing a bench with a built-in storage space, or a table with containers inside. These dual-use pieces will allow you to maximize space and functionality of your outdoor area. Zoning your space is also very important. In a smaller space it's ideal to arrange furniture in one of the farther away corners, and oppositely in a large space one should use various textiles and rugs to break up dining areas from relaxing areas.
Strategically shielding one area of your outdoor space from another allows you to create intimacy and compartmentalizes your space. One way to create this effect is by incorporating shrubs or dwarf trees as a gently textured approach. You may also consider containers with vines climbing up a trellis as another effective screening alternative.
Lastly, aim to find affordable updates to your outdoor area. Whether it's refreshed slipcovers, new accent pillows, or a fresh umbrella shade the tiny upgrades to your yard area are what keep it lively and fun. Summer is perfect for spending time in your outdoor space, so what are you waiting for? Your dream backyard awaits!