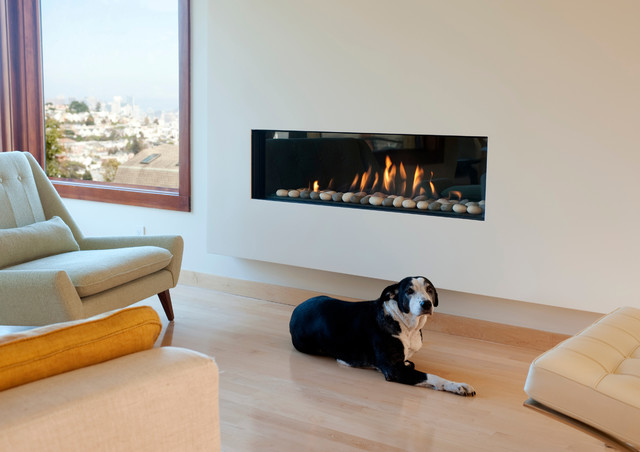 Energy efficiency is becoming more and more important because it reduces the costs of owning and maintaining a home as well as preserves scarce resources and promotes environmental sustainability. All kinds of home appliances are being made more energy efficient, and fireplaces are no exception. The use of a fireplace can have a big effect, either positive or negative, on your home's overall energy efficiency (and your wallet). This is important because one of the major costs for many homeowners over the course of a year is their heating bill. For this reason, understanding how a fireplace can benefit — or harm — your home's energy efficiency is important for making the decision about whether to install a fireplace or to replace an old fireplace with a newer one.
Identifying "Green" Fireplaces
To find a high-quality, energy-efficient appliance, there are organizations that help by setting standards and evaluating appliances. A well known one is the Energy Star program, which does have guidelines for fireplaces. Other programs are the Leadership in Energy and Environmental Design, or LEED, and REGREEN, both of which are directed toward identifying and supporting best practices for energy efficient, sustainable construction. Choosing a fireplace that is approved by one of these programs is a good way to be confident that you are getting an energy-efficient fireplace.
Installation Options
Just choosing a highly rated fireplace is not the only factor in energy efficiency. The way a fireplace is installed and vented, as well as how it is used in combination with your primary home heating system, have a big impact on the overall energy efficiency of your home.
Some types of installation and venting systems are more efficient than others. For example, a traditional chimney is not very efficient at all because a great deal of heat escapes through it rather than heating your home. Also, an older fireplace with a chimney can badly affect heating efficiency in the rest of your home because the fire draws air in for combustion. This means warmed air throughout your home is drawn toward the fire, while cold air from outside is sucked in to replace it.
Modern fireplaces are designed for better efficiency. A direct vent system, for example, draws outside air to feed the fire instead of indoor air, which reduces drafts and keeps warmed air inside where it belongs. A combination of an efficient fireplace with an effective zone heating system can help you to keep overall heating costs down, as you can use a fireplace to warm a room that you are using and reduce heat elsewhere in the house. Replacing an old fireplace with an energy-efficient model is a good choice to increase overall energy efficiency in your home.