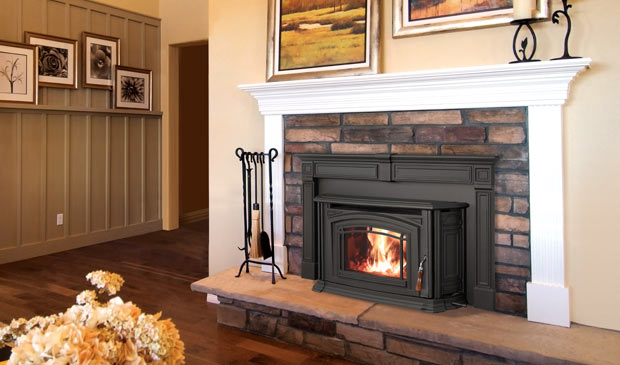 This year, Enviro is celebrating its 25th anniversary. Whether you have a wood fireplace or you are in the market for a wood stove, Enviro has you covered. Their products, which are designed and built in North America, will enhance the energy efficiency of your home while adding style and warmth to any room. Enviro makes freestanding wood, gas and pellet stoves; wood, gas and pellet inserts; and gas fireplaces.
Enviro's parent company, Sherwood Industries, always uses the latest technology and attention to detail when manufacturing its products, ensuring a high-quality product that will last a lifetime (or more). Crews use computer-aided design and steel-cutting lasers to build Enviro fireplaces and stoves with the sturdiest construction and cleanest lines that meet the highest engineering standards.
If you have a fireplace, you likely enjoy the ambiance and comfort of cozying up next to it on a chilly Colorado evening. But an open wood fireplace could be costing you money and making your home colder because it sucks all the heat up the chimney. Installing a wood fireplace insert is an excellent way to circulate heat throughout your entire home while still keeping the beauty and relaxation that your fireplace provides. Enviro inserts have the largest glass size and firebox in their class, ensuring that you have the maximum viewing area to enjoy the glow from the dancing flames. From the contemporary design of The Venice to the more traditional feel of The Boston, Enviro provides you with many options so you can feel confident in finding a style that fits your home and lifestyle.
Enviro wood fireplace inserts are not only aesthetically pleasing but also efficiently warm your home. Their progressive-burn technology provides you with up to 12 hours of burning time, keeping you warm all night. Other features, such as secondary air tubes, keep your operating costs and emissions low. Enviro inserts also offer variable fan speeds and adjustable air control so you can easily regulate the heat output and get the most heat out of your insert while lowering your heating costs. You can also convert your wood fireplace to a gas-burning fireplace with one of Enviro's gas inserts.
If you don't have a wood fireplace but crave all that a fireplace has to offer, Enviro wood, gas or pellet stoves are the perfect choice. Freestanding stoves are easy to install and will give you the crackling glow and radiating heat you've been craving. Enviro's gas, pellet and wood stoves are ideal for remodeling projects as well as new construction. They have Old World charm as well as the modern efficiency that comes with today's technology. Perfect for your basement or other cold areas of your home, wood stoves are a fantastic low-cost heating alternative. Enviro's quality, heavy construction ensures the longest possible stove life and offers great features such as optional fan kits, side shelves and a variety of finishes and styles that will enhance your living space.
Owning a freestanding stove or wood fireplace in Denver has so many advantages. There's nothing quite like snuggling up and relaxing next to the flickering light of a fire. It's where fond memories are made with your loved ones, but it can also be an efficient way to heat your home while being kind to your wallet. Imagine the money you can save when you invest in an Enviro insert or stove. By choosing a high-quality product, designed and constructed in North America, you will feel confident that your purchase will last for years to come. With its products' striking designs and energy efficiency, it's no wonder Enviro is celebrating 25 years of making fireplaces, fireplace inserts and freestanding stoves.