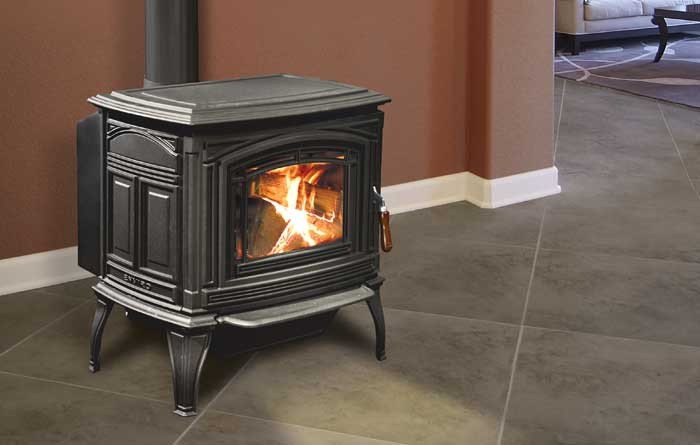 Those who live in the cold, damp regions of the Pacific Northwest know a thing or two about the importance of heating. In addition, those who live in this unique area are keenly aware of the environment and the importance of preserving the delicate ecology. It should come as no surprise then that Enviro Fireplaces and Wood Stoves are manufactured by a company located on Vancouver Island, off the coast of British Columbia.  Founded in 1988, Sherwood Industries Ltd. employs the latest manufacturing techniques in the creation of their Enviro line of home heating products, including computer aided design and  state-of-the-art steel cutting lasers.
Enviro fireplaces, inserts and freestanding wood stoves are ideal for those who prefer a more traditional look, though the product line also includes models that fit in well with contemporary interior design as well. With thirty models and sizes of wood stoves, fireplaces and fireplace inserts to choose from, there is an Enviro unit for virtually every home.
The Enviro line of home heating products has earned its name. These products feature high efficiency secondary and tertiary burn systems. Super-heated air is used to make certain fuel is completely consumed; this results in more efficient heating as well as lower emissions – which ultimately translates into substantial heating cost savings. The company's patented Progressive Burn Technology keeps hot embers going overnight, by limiting the circulation of air toward the rear of the firebox – resulting in faster, easier starts the following day.
In addition to wood and pellet burning stoves and fireplaces, the Enviro fireplace product line also includes a number of gas-burning products. The freestanding gas-burning units offer realistic ceramic logs, cast iron construction, electronic ignition and efficiency ratings of over 70%. Choose from traditional or sleek-looking contemporary designs. You may also be able to qualify for federal tax credits of up to $300 with your purchase of an Enviro home heating product.
Home & Hearth Outfitters are proud to carry the complete Enviro product line and offer these to our customers.