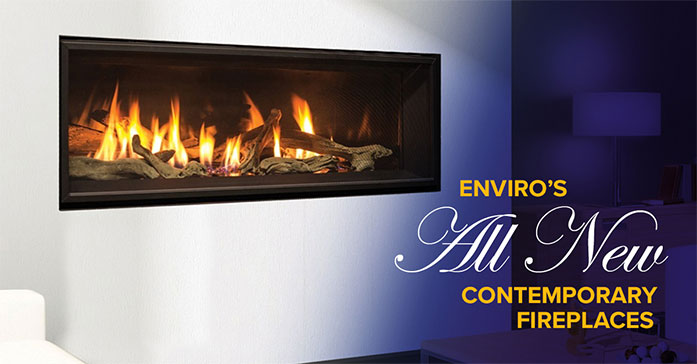 The Enviro brand of heating products are known for their superior quality and attention to detail. The company has been an industry leader since 1988 thanks to the quality of its gas, wood and pellet appliances produced out of its manufacturing facility in Vancouver. The new C line has been launched for the 2016-17 winter season and brings a brand new line of linear designs built upon those same quality standards with a modern, contemporary look.
Enviro latest introduction of the C line of gas fireplace inserts, brings a fresh new series to an already expansive list of insert options and provides homeowners with a new set of contemporary models to choose from. The Enviro C44 linear fireplace is shaping up to be a popular choice at Home & Hearth Outfitters this season due to its sleek look and detailed, durable construction combined with high efficiency.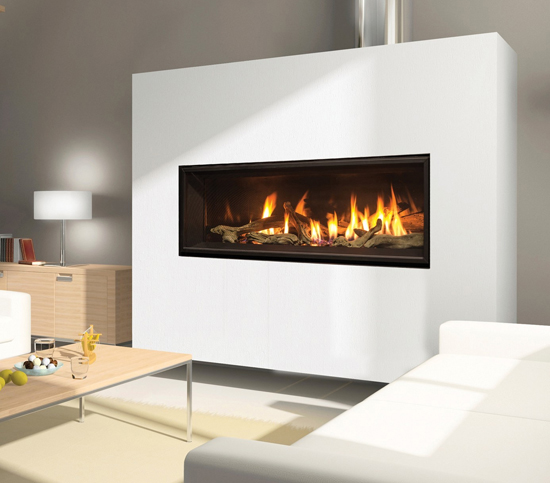 Enviro C44 Linear Fireplace
If you are new to the concept of gas inserts, any homeowner with access to natural gas can get a gas insert installed. They need to be professionally installed, because a gas line needs to be run to the fireplace. They have energy efficiency ratings from 76 to 83 percent and will help homeowners to keep their gas bills low. Maintenance is a breeze and most people only need to wipe the glass door. The logs are usually made of ceramic or a type of ceramic fiber.
The options for the Enviro C44 fireplace are numerous and can add a striking, sleek look to your home. The features of the Enviro C44 include:
Striking linear design
Customizable liner: choose from a charcoal fluted liner, ledgestone liner or porcelain enameled liner based on how you want it to blend in with your home.
Choice of flame accent: choose from a full tray of black glass beads with a glass bezel or clear glass beads with halogen lighting kit. Add the optional ultra high definition log set or a rock and log combination for a natural look.
Hidden pilot system diagonally recessed on a far edge
Optional lighting kit: a Halogen lighting kit installs beneath a bed of clear glass beads to create dynamic lighting effects in the C44's firebox
Optional surround: Powder coated or brushed nickel surround to create a stronger focus on the flames
Optional Heat Distribution Kit: This heat distribution kit channels hot air away from wall mounted TV's or other valuable materials placed directly above the unit
Optional Dual Fan Kit: This optional 220 CFM fan assembly operates with a left and right fan to help evenly push warm air further into the room.
Clear view safety screen is included
Learn more about the new models available at Home & Hearth Outfitters by browsing our product section. We specialize in inserts and fireplaces for the modern home. Gas fireplace inserts are among the most popular in Colorado and Home & Hearth Outfitters are the leading installers in Denver and Vail.
Home & Hearth outfitters is a top choice in Denver for gas inserts and a proud distributor of Enviro gas inserts. We offer full service gas insert installations and everything from new installs and remodels to retrofits and conversions. Visit your local showroom today and talk with a design expert to learn more about the C Line of contemporary linear fireplaces from Enviro.