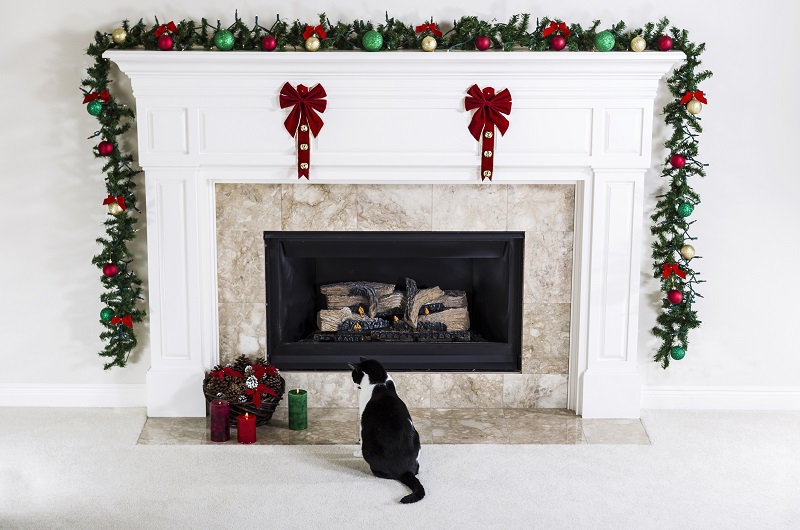 Keeping the mantel well-decorated all year long will add even more warmth to your fireplace and living room. Your fireplace makes your living room a great location for cozy family gatherings, solo stretches on the couch with a good book or Netflix, and a picturesque background for fun holiday parties. Here are some options and tips to make your mantel a high-point of style in your living space.
Make It Balanced
Create a symmetrical space that draws the eyes by placing your mantel objects in a symmetrical way, and avoid overcrowding the mantel with extras. Choose matching end points, whether they are framed art works or statues, and you'll notice a calm feeling in your living room. It can be as easy as using two candlesticks to border your favorite large painting. Symmetrical mantel decorating isn't hard – just buy two of the things you are attracted to (especially if you're changing your mantel each season) to use as book ends.
Make It A Focal Point
Since the mantel is often in the center of the living room anyway, why not make it the focal point of your home and décor? You can do this in many ways. Lots of homeowners choose to honor their family with photos on the mantel, and you can definitely choose this classic option. Should you want to stray from the go-to use for the mantel, make your mantel décor be the center of attention. Make it a gallery of your most cherished pieces – and set it up to look almost gallery like with framed art, statues, potted plants all in a matching color scheme (the simpler the better). You can also layer your favorite items, with the biggest and flattest towards the back and smaller intricate pieces in the front, to create a mini-stage that draws the eyes. Go over the top during parties: if you have time to change your mantel to whatever the party's theme is, this location will serve perfectly as a photo backdrop.
Make It Work
Function can be just as important as form, especially if your mantel is in a smaller living space. Perhaps this is the only place for your television. Or you don't have much extra room for trays of snacks during a get together. In this case, don't stress yourself out with décor and make that mantel do some work.
Make It Expand Your Space
If you do have a tiny space to work with, your mantel can help create the illusion of more space. Simply add a mirror on top of the mantel. Some people choose to do this because having even a few objects on the mantel makes them feel the room is cluttered. Mirrors can make a room look bigger than it is. You can use an antique, gold-framed mirror with lots of fancy details, or you can go sleek and modern with a smooth piece of mirrored glass – you can always find a mirror that will mesh the rest of your home's décor.
Make It Seasonal
If you are up for the challenge, start collecting decorations for every season you wish to celebrate. But remember, too many objects may start to feel like clutter. A handful of cherished statuettes, items, or art pieces that reflect the time of the year will always cheer up your living space. Fresh flowers in your favorite vases for spring, gourds for fall, you get the idea. When you are finished with that season, make sure to store and label your boxes of décor properly so you can easily find them next year.