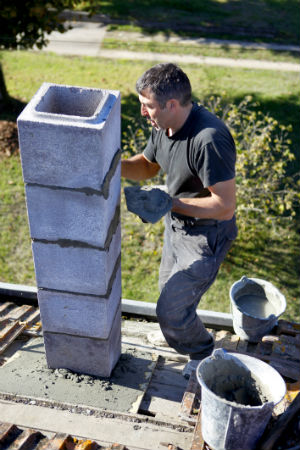 If you want to install a fireplace in an existing home, summer is the time to do it, and one of the first things you need to decide before you hire your contractor is how your fireplace will be vented. Modern fireplaces offer multiple venting options that do away with the need for a chimney, which makes them easier and cheaper to install. Not needing a chimney also means you have more options for where to locate a fireplace inside your home. As you consider the type of fireplace and where you want to install it, here are the venting options you can choose between.
Natural Vent
Also called a B-vent, this is an economical type of venting system for a fireplace. It simply uses a B-vent pipe for a chimney, which exits vertically above the house's roofline. This is similar to common venting systems for furnaces. A natural vent system uses indoor air from the room for combustion. The system also heats room air around and behind the fireplace surround, which is vented back into the room for additional warmth. A fireplace with a B-vent system needs to have extra finish work to hide the vertical vent pipe, such as the installation of a mantel and camouflaging wall panel in front of the vent piping. Although it is one of the most economical types of vent to install, it is not as efficient as some other types.
Direct Vent
A direct vent system uses outside air to feed combustion as well as vents exhaust to the outside. It does this by means of a coaxial pipe, which simply means a narrower pipe inside of a larger pipe. The inner pipe vents exhaust to the outside, while the outer pipe draws in fresh air for combustion. Because this type of system does not draw air from inside the room to feed combustion, it has less (negative) effect on indoor air quality. It can also reduce drafts because room air is not being drawn toward the fire, which can also draw air in around drafty doors or windows. Direct vent systems can be connected to either the back or top of a fireplace, and they can connect to the outdoors either horizontally or vertically, to offer greater versatility. They are the best choice for a newly constructed, air-tight home.
Vent Free
Finally, some fireplaces require no outside vent at all. They are designed to burn fuel with an extremely high level of efficiency, so that almost all of the exhaust gases are consumed by the fire. This makes them the most versatile types of fireplace as far as installation locations are concerned because they can be installed in rooms where it would not be easy to vent to the outside. However, even fireplaces that are designed to work without a vent produce trace amounts of exhaust gases. For people with a high sensitivity to air quality or in homes with weak ventilation, a vented fireplace system might be a better choice.