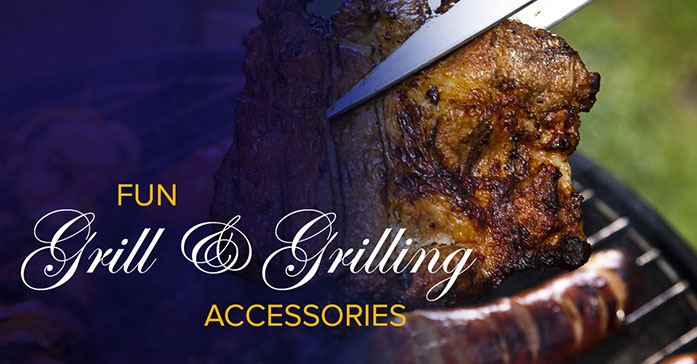 These days, backyard barbeques can be more versatile and used for more than grilling burgers and hotdogs. This summer, be sure to stock up on a variety of accessories that will make your grilling experience unique and fun. Whether you are interested in learning new grilling techniques or enhancing your usual grilling experience, there is an accessory that will fit your needs!
Make Grilling Easy
The Heat is On!
If you are using a charcoal grill, you may want to keep accessories on hand that will make it a cinch! Use a fire starter to get the charcoal going fast. Fire starters, like Primo Quick Lights, are a quick and safe way to light your fire effectively. They come in variety of styles and many are non-toxic and all natural, making them a healthy alternative to lighter fluid. Some even work when wet! When used with Primo's natural lump charcoal, you can grill your food with cleaner energy. The coals will burn longer, hotter, produce less ash and can be used more than once.
All the Right Tools
No need to rough it when it comes to your cookout. Plenty of tools are available to make it a safe and easy process. A barbeque tool set is essential to have. Some sets are more elaborate (and expensive!) than others, but the bottom line is to have utensils like spatulas, tongs and skewers that are designed specifically for grilling. These will have extra-long handles and be designed to stand up to high cooking temperatures. To keep you and your food extra safe, look for a tool set with a grill grate gripper which lets you lift and move a hot grate from the grill while keeping the food in place. Some grippers double as a tool to spread charcoal inside a hot grill, too.
Cooking foods to the right temperature is important as well. Reaching and maintaining an ideal cooking heat can be a guessing game unless you have the right tool. Some thermometers can help with both these issues. Primo offers a digital model that measures both the internal temperature of your food and the grill temperature at the same time.
Make Grilling Fun
Beyond Burgers and Dogs
No matter what your favorite dish is, chances are you can find a grill accessory to help you cook it. Popular grill ware is available for all kinds of foods, ranging from fish and corn-on-the cob baskets, to bacon and rib grilling racks, to pizza stones and poultry stands. Porcelain pizza stones enable you to cook your pizza to perfection right on your grill, without burning the crust! If you want to bake a bird on the grill, porcelain poultry sitters (available for both chicken and provide an easy way to season and cook them at the same time.
The list of food types you can cook on the grill is ever expanding: jalapeño poppers, quesadilla, nachos, stir fry and fajitas. You can even roast a garlic bulbs in special cast iron cookers!
Looking Good?
Don't forget to outfit yourself for the job! Grilling aprons protect your clothes while being fun AND functional. You can find aprons that express your personal style and be the center of conversation at every cookout. Be sure to have grill mitts and/or gloves handy, too. Lots of styles are available, including some made of silicone, neoprene, canvas or leather. Protect your hands and securely handle your food with these accessories.
It's time to get your summer grilling menu ready, so get some grilling accessories and have some fun cooking unique and delicious meals for friends and family this year!