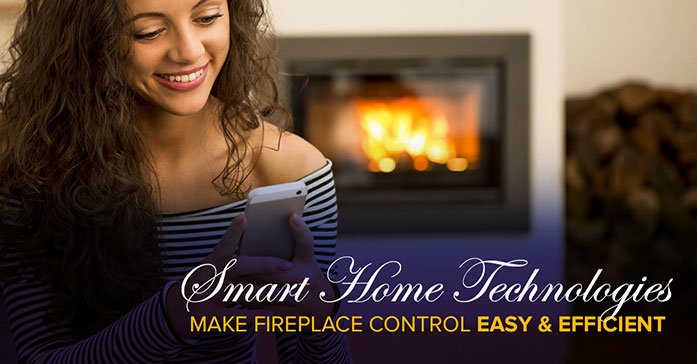 A growing movement in home design focuses on advanced home automation – apps and devices that let you program the features of your home to activate at a certain time. Today, home automation has become much more than simply having the coffee pot start brewing before you wake up. Automated technology has now extended into the sphere of fireplaces.
Homeowners have long had the ability to "start" a fire simply by flipping a wall switch. Now, getting the fire roaring is even simpler than that. With new home construction on the rise in Denver, there is a growing demand for these new time saving technologies which add convenience, safety and energy saving benefits to your home. As improved controls and options come onto the marketplace, fireplace home automation is an increasingly common option in new fireplace installations and when upgrading existing fireplaces.
Home automation is an ideal fit for gas fireplaces. Gas fireplaces are typically connected to a switch or remote control, making them flare up on command. With home automation in place and extended to your gas fireplace, you can program your fireplace to turn on and off at predetermined times. What's better than waking up to a pre-made pot of coffee? Waking up to hot coffee and a roaring fire!
Connecting your gas fireplace to home automation can also result in cost savings. Gas fireplaces traditionally run off a standing pilot light, which is always on. Some automated fireplaces have a feature that removes the need for a standing pilot, which can help lower your gas bill.
Home & Hearth Outfitters works hard to stay at the forefront of the latest technologies in home design and building. By keeping an eye on rising trends, we can supply our customers with the fireplace aesthetics and modern fireplace technology they want in their homes. To stay current with the fireplace home automation trend, Home & Hear Outfitters carries the Town & Country luxury gas fireplace line. Town & Country offers a Smart Home Controller kit option with their luxury gas units. This option features a programmable remote that allows you to set up to four automatic on and off times for your fireplace and features Bluetooth integration with your phone. These units also work off of an ignitor, rather than a standing pilot light. This will reduce your gas bill and creates a more environmentally friendly fireplace.
Town & Country gas fireplaces with Smart Home Controllers are only one of the options Home & Hearth Outfitters has to help integrate your fireplace controls into your home automation plan. Building the smart house of the future just got a little cozier.