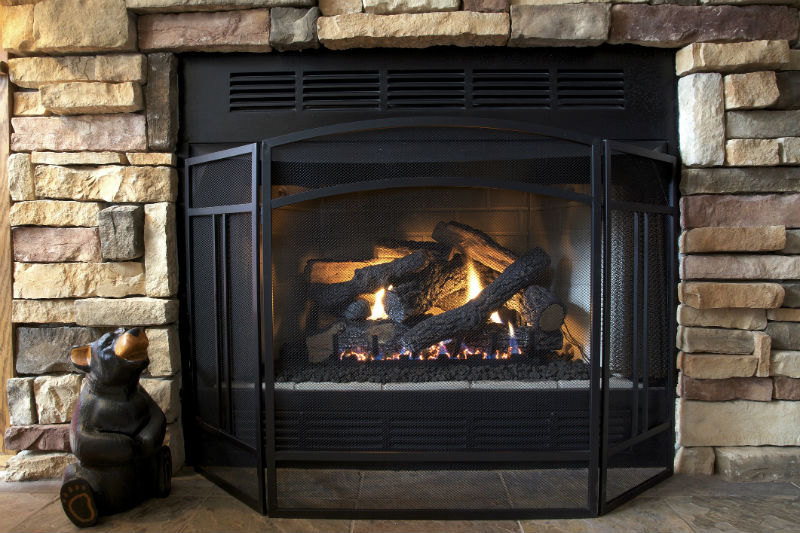 In many ways, the modern gas fireplace is a marvel. Not only is it a clean, environmentally friendly alternative to the traditional wood-burning fireplace, it allows many newer homes to enjoy a fireplace that otherwise would be unable to. They are also much easier and safer to operate, and require less maintenance.
"Less" maintenance is not the same as "maintenance-free," however, and there are certain steps that should be taken when using a gas fireplace.
Getting Started
The first question here is, do you have a fairly new gas fireplace or is it an older model that was installed when you moved into your home? Gas fireplaces have been around for several decades, and older ones may not be up to today's building and safety codes. The latest gas fireplaces have built-in igniters that turn on with the flip of a switch – and a few of these can even be operated with a remote control, similar to the one you use for your TV.
If yours does not have an igniter, you may need to invest in long matches or a special fireplace lighter with a longer reach. After making certain the gas is turned off, you will want to look at the logs for an opening and a valve. Turn the valve on and hold the flame up to the opening (it's similar to lighting old-time gas stoves). In either case, if a gas fireplace hasn't been used for a while, it's best to have a professional inspection done, including the ventilation system.
Operation
It's possible to adjust the flame either using a knob or your remote control (the knob is usually located near the pilot light controls). It also may be identified as the "thermostat." Once this has been set, it's time to flip the "on" switch. Again, depending on what model you have, this switch may be on the wall, similar to a standard light switch, on your remote control or near the fireplace itself.
Although gas fireplaces are more efficient and far safer than wood-burning fireplaces, it's still a good idea to turn it off if you and or family or guests are leaving the room for any length of time. No flame, be it gas, wood or even electric, should be left unattended.
Keeping it Going
Like all fireplaces, gas models require regular maintenance and upkeep. If there is glass in in front of the fireplace opening, it should be cleaned about once a month because, believe it or not, even gas fireplaces can create grime. Cleaning it regularly will ensure you get the most enjoyment and heat from your gas fireplace.
During the summer, the pilot light should be turned off so as not to waste energy. Before getting started again in the fall, have a professional inspection done to make certain everything is working properly and check to make sure that no birds or animals have taken up residence in your exhaust vent.