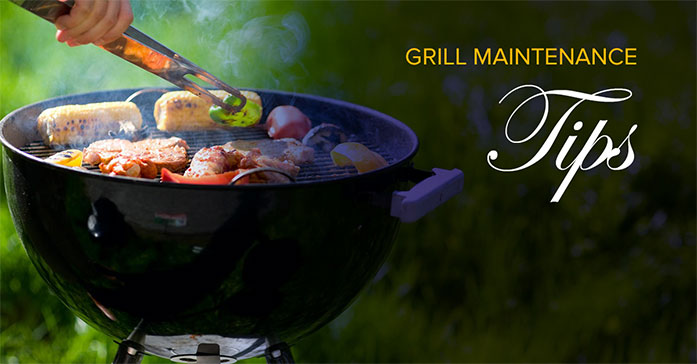 Pretty soon things will begin to thaw and before you know it, summer is just around the corner. With the change in seasons, everyone will be spending more time outdoors and you will want to be ready for backyard cookouts! Be sure to get a head start on prepping your grill with these tips.
Inspect your grill
You're grill has be subjected to winter weather for the last few months, so before you start firing it up consistently give it a good once over for any damage that may have occurred. This is important not only for getting the perfect char, but to make sure your grill experience is safe.
Check for wear and damage: Do a visual inspection of your grill, inside and out, for any noticeable signs of wear. Look for broken part and rusty spots. If you notice rust on the grill, use a high-heat spray paint to cover these spots – as long as they are not cooking surfaces that food will touch. If your grates are rusty or any part appears broken, replace it with a new one. You don't want rust getting onto you food.
Check for leaks: If your grill uses a propane tank, you will want to inspect the tank carefully for any signs of damage. Disconnect the tank and examine the exterior for dings, dents or even punctures. To check for leaks in the hose or valves, you can mix up some very soapy water and while the tank is on, place soapy water on exterior of these areas. A leak will cause more bubbles in the water. Replace any part that leaks.
Check for remaining fuel: The last thing you want is to run out of fuel mid-way through your cookout. Be sure to check your fuel reserves before your first big cookout (or even before family dinner). Stock up on extra charcoal (especially if yours got wet during the winter) or get your propane tank refilled ahead of time.
Do a deep clean
Ovens, stoves and microwaves need to be deep cleaned from time-to-time to be sure you are preparing your food in the healthiest way. Grills are no exception. Be sure to clean the interior and exterior thoroughly before your first barbeque of the year. A clean grill will operate more efficiently and cook your food more evenly.
Gas grill care
If there is a lot of residue from last season on the interior of your grill, you may want to turn on the grill to burn it off first. Then the best way to clean your grill depends on if it has coated or metal grates and if it has any stainless steel, aluminum or porcelain parts. Stainless steel, aluminum and porcelain areas can be scratched when using abrasive tools and cleaners so you'll want to be mindful and careful. Always use warm soapy water and a soft cloth or non-scratch sponges to clean these parts. Metal grates can be scrubbed with a grill brush.
Here's a tip: If your grates are stainless steel, you can buy special cleaner, spray them and place in a large garbage bag to soak. This will make them look good as new!
Be sure you also clean the bottom tray and any drip pans or trays. Start by scraping off residue with a paint scraper and then washing them with warm soapy water to remove the grime and prevent fire hazards – using a grease-cutting dish soap will make this process much easier and more effective. If you notice what appears to be peeling paint on the inside of the grill lid, wash this off as it is likely burnt on residue which can also be a fire hazard (plus, you don't want it falling onto your fresh food).
To keep the outside of your grill sparkling, give the exterior a good clean a few times a season. Use warm, soapy water and a soft cloth or non-scratch sponge to wipe down the exterior. If any smudges or smoke residue remains on the exterior, this can be cleaned with a soft (microfiber) rag and regular household glass cleaner.
Charcoal grill care
Like gas grills, charcoal grills will also have burnt on residue on the inside that needs to be cleaned up before you start grilling regularly. Remove any reside on the inside of the lid with a brush and wash it completely clean with warm soapy water. Clean the grate as you would with a gas grill, using a grill brush to remove residue then wash clean with warm soapy water. Be sure to clean the bottom of the basin by emptying any old charcoal and ash, scraping off residue and washing with soap and water. This will give you a nice fresh base for this season's grilling.
You can clean the exterior of a charcoal frill just as you would a gas grill using warm, soapy water and a sponge or soft cloth to wipe down the exterior. If any smudges or smoke residue remains on the exterior, use a soft (microfiber) rag and regular household glass cleaner to gently scrub it away.
The final step
After all this hard work, you will want to test the grill to be sure all parts made it back in place are working efficiently. Start your grill as your normally would, after it is dry from the deep clean, and let it run for 20 minutes to burn off any cleaner or soap that may remain. You are now ready for some summertime cookout fun!