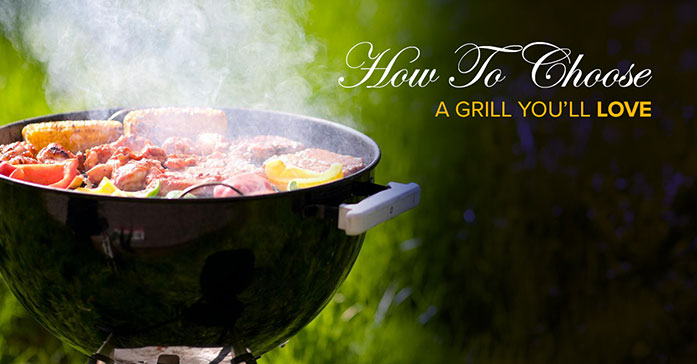 In the summertime, there's no better way to gather with friends and loved ones than by hosting a good ol' fashioned BBQ. To get you ready, here are a few helpful tips to help you pick out a grill you'll love that's right for you!
The most popular types of grills are charcoal and gas grills, which are perfect for most outdoor spaces. Depending on your living space and situation, however, you may have to seek other grill options – such as an electric grill. Below we've listed some benefits and drawbacks of popular grill types to help you narrow down your search for the perfect grill and determine what will work best for you.
Gas Grills
Gas grills are powered by propane tanks. They're easy to use, quick to fire up, and offer a fairly consistent burn.
Attributes of a gas grill:

Gas burns cleaner and is less expensive (per use) than charcoal
Ignites quickly with a push-button, rotary, or electronic lighter that's integrated into the grill – no matches required
Only requires a few minutes of preheating, very time efficient
Side burners on some gas grills allow you to prepare a side dish right on the grill simultaneously
Standard propane tanks hold roughly 20lbs of fuel, which lasts for about 9 hours of grilling

Disadvantages:

Flavor – foods cooked on a gas grill will lack the traditional "smoky," "grilled" taste of charcoal
The initial cost of the grill itself is more than a charcoal grill
Charcoal Grills
Charcoal grills are the traditional cookout stations and are typically smaller than gas grills. These are the units that produce that quintessential "grilling" smell.
Attributes of a gas grill:

Burns charcoal briquettes, wood, or a combo of the two
Foods cooked on this style of grill get that original smoky/charcoal BBQ taste, which is much different than the taste you'll achieve with a gas grill
Cooking over charcoal requires time. It takes about 15-30 minutes of preheating before you're ready to grill
Charcoal grills come in a wider array of sizes, from travel/camping size (that also fit nicely on apartment balconies) to larger backyard units
Usually features a metal exterior, though they're also available in ceramic

Disadvantages:

Lack of time efficiency – a charcoal grill isn't going to make a "quick" dinner
Clean-up is more extensive as you need regularly empty the ash and replace your fuel
Constant purchasing of coal is more costly than gas – particularly since one batch of charcoal doesn't last as long as one propane tank
Electric Grills
Though less common than its gas and charcoal cousin, the electric grill is a good solution for people who live in smaller spaces or don't want a grill with an open flame.
Attributes of an electric grill:

Great for people living in apartments or other areas that don't allow charcoal or gas grills or have other fire/flame regulations
Very easy to use – permanent ceramic briquettes are heated when the grill is plugged in and turned on.

Disadvantages:

Needs easy access to an electrical plug, typically an outdoors plug
Doesn't produce a true grill taste
Zero smokiness flavor
Other Grill Options
Looking for a different type of grill? Some other types of common grills include outdoor stoves and smokers. These types of grills are a bit more advanced and require the commitment that only a grilling aficionado can offer.
Outdoor stoves typically work with propane tanks, but some can be converted to natural gas. They have between one-to-four burners which is excellent for stews and seafood boils, some even have rotating pizza stones which provide brick-oven style results. Most importantly, outdoor stoves are typically portable and can be used for tailgating or camping.
Smokers are available in electric, charcoal, and gas models and are made to cook "low and slow"–between 225-275ºF for several hours. A wood chip box or water pan allows cooking with different types of wood chips and different smoke levels, resulting in different flavors. Available cooking area for smokers ranges from 250 square inches to more than 1000 square inches, allowing you to cook up to 50lbs of food at a time. In addition, some smoker models offer dual-use designs for smoking and grilling simultaneously.
When choosing a grill make sure to take into consideration your own grilling needs, portability, size constraints, serving size preparation, ease of cleaning/maintenance, durability, price, and headspace. If you're not sure which grill is right for you, stop in Home & Hearth's showroom and talk to one of our grill experts. Happy grilling!