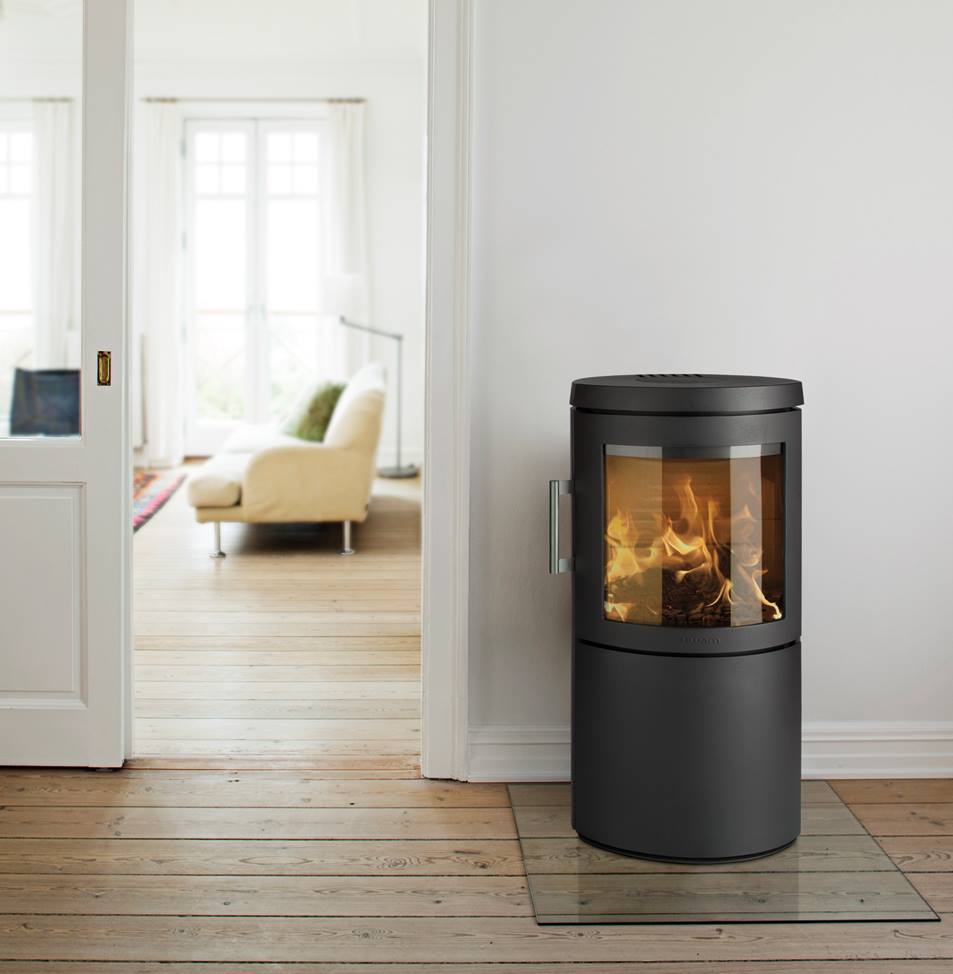 Looking for a modern and economical way to heat your home this winter? Home & Hearth Outfitters has everything you need to make this happen. With our new partnership with HWAM North America, Home & Hearth Outfitters brings you sleek, Scandinavian-style, wood-burning fireplaces here in North America. With a wide selection of different styles, you will be sure to find the best in ultra-modern, high-efficiency fireplaces for your home.
HWAM's traditional freestanding wood fireplaces are a popular choice for heating. Wood heating is inexpensive, and today's stoves are low in emissions output, making them an ideal solution. Wood stoves are also favored because they offer a truly renewable and efficient heating source. When looking for a freestanding wood fireplace that will provide heat, efficiency, and style to any room, HWAM wood stoves are a fantastic choice.
Freestanding fireplaces by HWAM have a sleek, glass-pane door that gives you a view of the dancing fire that is bringing warmth into your home. Because the fireplace stands off the ground, this viewing window will sit about 20 inches above the floor. Your door smoothly swings open in one motion to make it easy to add more wood.
If you'd prefer a more traditional look, HWAM also offers modern built-in options. With the built-in HWAM fireplaces, you have different installation choices. HWAM wood-burning fireplaces can be anchored to the floor, or people who want to create a more updated look can choose to "float" the fireplace on the wall with an off-the-ground installation. Both options are available with doors that either swing up or slide to the side, and both function with ease – so your only problem is picking which style you prefer.
Along with fireplaces, Home & Hearth Outfitters is also able to bring you HWAM's entire line of products. These include circular heating stoves as well as models that feature an oven, so you can make delicious baked goods for you and your family. All of these products function with the ease you want and deserve.
HWAM's fireplaces are made with a patented autopilot system that adjusts air to the chamber at every stage of burning. This function ensures your fireplace has proper combustion and takes the guesswork out of using it. It provides optimal efficiency, which also lessens the strain on the environment.
This winter, treat your home and your family to an upgrade with a brand new HWAM product from Home & Hearth Outfitters. We invite you to contact us by email, call us at 877-515-6366, or visit our showrooms in Denver and Vail.