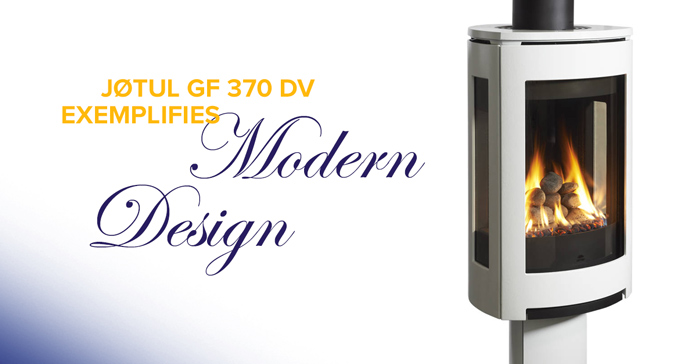 Jøtul fireplaces, which are crafted in Norway and built in Maine, are from one of the world's oldest producers of stoves, inserts and fireplaces. For over 160 years, Jøtul has combined fine craftsmanship with the art of coping with the cold. Their elegant and highly-crafted stoves and fireplaces are world-renowned thanks to their dedication to quality, design and selection. They have the largest selection of stoves and fireplaces that can fit the style and decor of almost any home.
The most popular stove in their inventory is the free standing Jøtul GF 370 gas stove. The Jøtul GF 370 utilizes modern design and the new Jøtul Burner III to create an exceptional fire view from any angle. It offers a three-sided view of the fire and is approved for open/closed door fire viewing with the safety screen barrier that is included with the unit.
Design
The Jøtul GF370 Gas Stove has an industry-first cast iron Convex Triangle stove. It combines form and function to bring enough power to heat up to 1,300 square feet. The three-sided design is a first, which offers fire view from any angle. The innovative shape makes it a striking feature in any home. The design also includes a variable speed blower and accent lighting.
Jøtul's commitment to blending past with present while featuring Norwegian craftsmanship and functional design create a timeless look that will withstand changing trends. The look of the stove can be customized with traditional logs, Wishing Rocks or Starfire Glass Embers. The stove also comes with exterior decorative glass panels or a choice of interior panels (Skamol or Reflective Glass).
Specifications:
BTU range: 28,000 Max BTU input – 19,000 Low output
Efficiency: Up to 75% Steady State (A.F.U.E. 79%)
Flue outlet: Top
Gas types: Natural Gas, LP
Accessories: Traditional Logs, Wishing Rocks, Starfire Glass Embers
Awards
Based on the award-winning Jøtul F 370 wood stove, the Jøtul GF 370 DV offers the same contemporary cast iron styling in a freestanding direct vent stove with all the benefits of gas. The Jøtul GF 370 DV has received the Norwegian Award for Design Excellence and the prestigious German red dot award: best of the best and the US Vesta Award.
Efficiency
There is no electricity required to operate the stove, which makes it highly efficient. The revolutionary Jøtul Burner III delivers unsurpassed burner technology, too. In addition, the stove has Intermittent Pilot Ignition, which uses an electrode to ignite the pilot gas. This is used only when the main burner is operating, which extends over the burner for immediate ignition and conserves energy when the appliance is not in operation.
When it comes to modern stoves, this is one of Home & Hearth Outfitters top recommendations. This gas stove is very popular, because it offers an attractive and efficient home heating solution. See this in the showroom today.