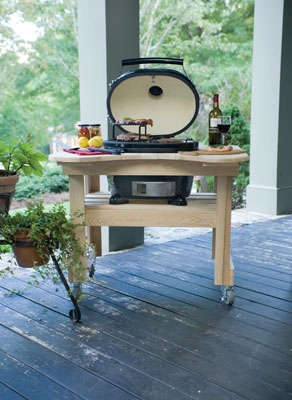 Have you wondered just what is a Kamado grill and how is it unique? Well, we decided to take a closer look at the increasingly popular style grill and delve into its unique history to answer just those exact questions.
The history goes back a long, long way. Once early humans moved beyond roasting meat on a spit over an open fire, the earliest cooking implement used was a clay pot. Archaeologists aren't entirely certain when and where this got started, but most likely, it was the Indus Valley Civilization in present-day Pakistan, between five and ten thousand years ago.
That simple clay pot evolved and spread into India, where it eventually became the tandoori. The concept was carried into China, Korea and Southeast Asia, most likely by Buddhist missionaries. Eventually, the clay cooking pot – which by around 1200 BCE, was being made from fine ceramic – made its way to Japan, where it became known as the mushikamado – literally, "place of the cauldron," or basically, "cooker."
With the Japanese talent and appreciation of old concepts this cookware was slowly improved upon and the once simple cooking pot became quite sophisticated. Used for steaming rice during formal and ceremonial occasions, the mushikamado got a domed lid as well as dampers and draft doors for controlling temperatures.
During the U.S. occupation of Japan following the Second World War, servicemen soon discovered the mushikamado and brought a few of them home. Over the past six decades, the kamado has evolved into a multi-purpose grill that can be used for almost any kind of food preparation, from smoking and grilling to baking and roasting. With new materials and advanced ceramic lining, the kamado can reach temperatures of up to 750 degrees. This ancient form of cookware has re-established itself as the preferred option for any true BBQ aficionado.
At Home & Hearth Outfitters, we feature the latest in Kamado Grills. Our most popular is the Primo Kamado Grill and its made right here in the USA, and features a unique oval shape as well as two sizes and a host of accessories for even greater versatility. Check out our selection today!