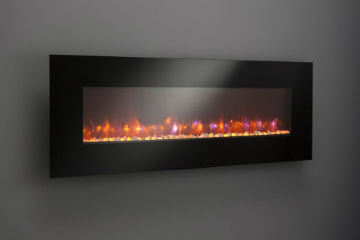 There's nothing quite like sitting beside a crackling fireplace on a chilly evening. Whether reading, working on a craft, sipping wine, or spending time with someone special, the ambience and warmth of a fire is a cozy symbol of home and relaxation.
But the reality of owning a fireplace is not always as romantic as the image. Fireplaces can be dirty and sooty, and any smoke that leaks into your home can cause respiratory problems as well as make your home smell like a campfire. Chimneys need to be swept regularly to prevent dangerous chimney fires. Wood-burning fireplaces also need, well, wood, which either needs to be stored inside or carried in every time you want to build a fire, and that can bring more dust and dirt inside. Wood also either needs to be chopped by hand or purchased from someone else. It turns out that having those lovely moments sitting beside a cozy fire can cost a lot of time and money.
There are alternatives to a traditional fireplace, and technology now brings the charm of a fireplace into your home without the mess and expense of a wood-burning fireplace. Even if your home has no fireplace or area to install a traditional fireplace, you can still add the look and feel of a cozy fire to your home with an LED electric fireplace.
What Is an LED Fireplace?
LED fireplaces are new innovations that provide the look and heat of a fire without involving real fire at all. They come in versions that provide only the appearance of flame via LED lights or with built-in heaters that provide a zone of heat beside the fire in addition to the flicker of firelight.
Gas fireplaces are the original alternative to a wood-burning fireplace for your home. But gas fireplaces have their own drawbacks. They need to be designed into a home's original construction or installed as part of a serious remodeling job. As with both gas and wood-burning fireplaces, families with young children or rambunctious pets may worry about having fire in their home along with hot fireplace surrounds, which can burn if someone gets too close.
LED fireplaces, on the other hand, involve no real flame and have no hot surfaces that burn to the touch. The flicker of firelight is provided by a sequence of LED lights, which provide a highly realistic simulation of flames. If a model with an electric heater is chosen, the heater is concealed and out of the way of accidental touch, providing heat without the dangers of burns or scorched items that get too close to the fire.
More Benefits of Going LED
An LED fireplace can be constructed to fit inside a wall like a traditional fireplace, so it looks more like an old-fashioned unit. But it can also be mounted on a flat wall and take up little space, much like a flat-panel TV. This 50-inch LED linear electric fireplace is one example that can easily be mounted on a wall, providing the look and feel of a fire without taking any extra space or requiring any renovation to an existing room. This fireplace is ideal for adding the ambience of fire to any room in your home.
An LED fireplace can be used with the heat turned on or off, so if your room is already warm, you can enjoy the look of fire without adding extra heat. The LED firelight is very energy efficient, taking very little electricity to run. So if you have an efficient heating system in your home, and don't need to supplement it with electric heat from the fireplace, an LED fireplace adds little to your energy costs. On the other hand, if your room is chilly, it's simple to turn on the electric heater and feel like you're sitting beside a real fire without any of the mess or trouble of a real fireplace.
LED fireplaces can be sized to any room, even up to several feet long. Multiple options are available, such as backlighting for extra ambience or easy remote control operation. LED fireplaces require far less maintenance than a wood-burning fireplace; in fact, they require as much maintenance as nearly any electrical appliance in your home. Simply plug them in or install them with a hidden electrical connection, and they are ready to provide the look and feel of a fireplace for you to enjoy while you relax at home.