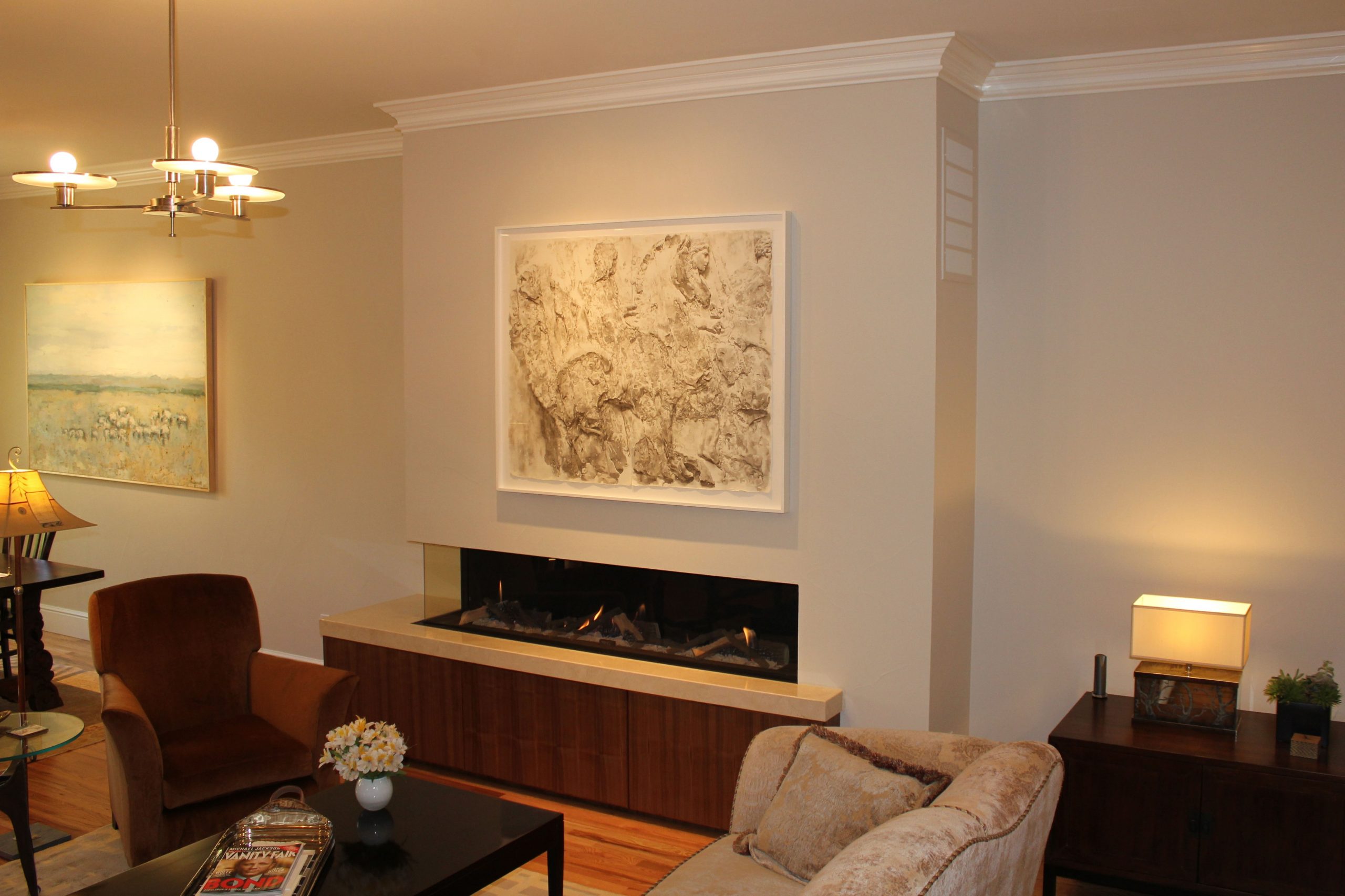 Hanging a TV or artwork above a fireplace comes with challenges
When it comes to contemporary living room or family room design these days, many homeowners place a painting or flat screen television over the fireplace. Hanging a TV above the fireplace can be a great way to use the focal point of the room, but there is a small problem: heat. Even a gas fireplace will raise the surface temperature of the wall above the mantel to levels that can damage artwork or delicate electronics. In fact, professional interior decorators recommend that your flat screen TV not be exposed to external temperatures in excess of 90 degrees for any length of time. Such conditions can cause the screen to crack or premature wear on the electronic components.
If you are thinking of hanging a TV above the fireplace, there are other problems to consider as well. National building and construction codes recommend that at least two inches separate electrical wires from the surface of a chimney, vent or fireplace. This may necessitate placing the television high up on the wall, which can create ergonomic problems as viewers must either crane their neck into unhealthy positions or sit far back from the screen. A possible solution is to use a motorized mount that allows the television to pullout out from the wall up to two feet and lowered by as much as three feet. However, such mounts can run nearly $2000, and may even expose the television to even higher heat levels when the fireplace is lighted.
Ortal's cool wall technology ability to mount a TV above a fireplace is the best in class
Ortal USA, a leading manufacturer of fireplaces and heating solutions, has recently come up with an innovative and more effective solution, built into their product design. Effectively a heat shield, this Cold Wal Technology blocks heat from transferring into the wall and minimizes heat exposure to anything above the mantel. With Ortal's unique, patented Cold Wall Technology, homeowners can now place a television as little as 12 inches above the firebox (less than a foot is never recommended under any circumstances) because of a built in layer which prevents the temperature from going over 90 degrees (competitors' walls can go to more than three times that level).
In addition to preventing premature wear on electronic equipment or damage to art, Ortal's Cold Wall Technology helps to also prevent structural damage to walls that can occur over time with standard fireplaces. This includes surface distortion, paint peeling and discoloration, loosening of tiles as adhesives lose cohesiveness and the cracking of marble surfaces – all common with most fireplace walls as temperatures can soar up to 300 degrees.
Only Ortal has this technology available, providing a wider range of interior decorating options to homeowners as well as restaurants, sports bars and professional offices and waiting rooms. Learn more at the Ortal USA website today or stop in to a Home & Hearth showroom today and talk with us about this unique feature, which is just one more way that Ortal inserts are changing home decor.