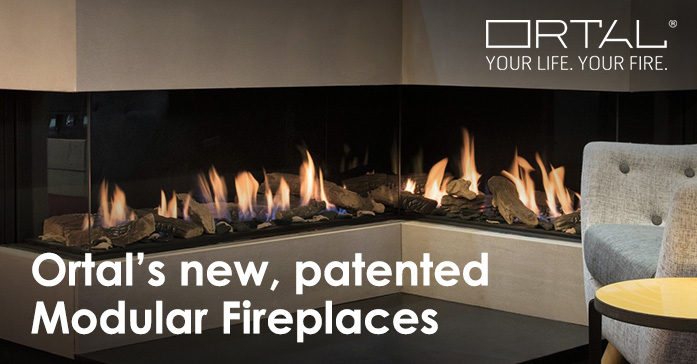 Ortal's new modular fireplaces allow for unique design arrangements
The temperatures have dropped, which means fall and winter are upon us. And to keep warm this chilly season, there's no better accessory than a fireplace. Home & Hearth Outfitters is the only dealer in Denver that offers Ortal, a collection of unique and modern fireplaces. This season, we're pleased to announce a new addition to the collection: modular fireplaces.
If you're up-to-date with modern home trends, you know that modular fireplaces are taking over the pages of home magazines, and you can also find them in modern hotels and restaurants throughout the city. Ortal's modular fireplaces were created with the purpose of giving you control. Whether you want a fireplace that cascades down a long wall, or you need a fireplace that perfectly wraps a corner, this modular Ortal collection is ready to become a customizable focal point that's both beautiful and conveniently warm.
5 things you should know about Ortal's new modular fireplaces:
1. You can customize the fireplace's length.
A fireplace isn't just a resource for heat. It's a design element that can elevate the look and feel of a room, taking it from normal to cozy and modern. Ortal designed its modular fireplaces with the ability to connect each unit. This means you can connect as many units as you'd like in order to perfectly fill and define your space.
2. There's a heat barrier to protect your TV.
A fireplace is usually the focal point of the room, but for many people, so is the television. If you're hanging a TV above your Ortal fireplace or plan on placing it on a mantel, you won't have to be concerned about the heat damaging your television. Within each Ortal fireplace design, a heat barrier keeps the heat away from your expensive technology.
3. The multi-pane glass eliminates accidental burns.
Whether you have kids, pets, or just you in your home, having a fireplace can be a cause for concern because of accidental burning. To ensure you and your family members won't get burned, Ortal uses multi-pane glass for each fireplace. You'll feel the heat coming through, but it won't burn your skin.
4. Styles include front, corner, and three-sided.
Another great aspect of Ortal's modular fireplace is its capability to be customized to your room. This includes having just a front-facing fireplace, a fireplace that wraps around a corner, or a fireplace that has three sides.
5. Ortal's modern designs are Scandinavian-inspired.
For modern inspiration, Ortal looked to the beautiful and unique style of Scandinavia. Ortal designs fireplaces with the consumer in mind, but the company is also an industry leader for creating modern styles that are unique and timeless.
Contact us today about building a custom fireplace for your home.