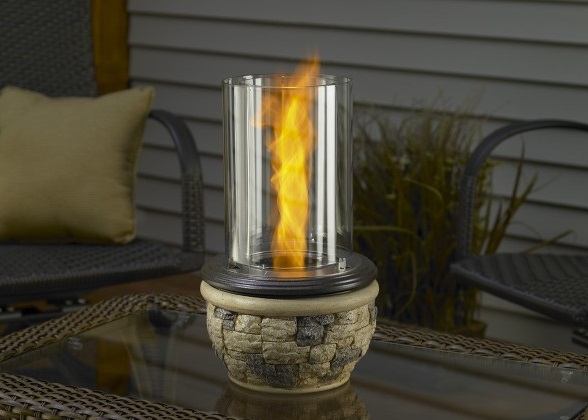 A firepit is a great way to extend the life of your outdoor entertaining area well into the colder season. At Home and Heart Outfitters, we are happy to say we sell top quality national brands – including a large variety of fire tables produced by The Outdoor Greatroom Company.
The Outdoor Greatroom Company is a family business with a knack for innovation – creators Dan and Ron Shimek invented the Heat-N-Glo gas fireplace that changed the game for the indoor fireplace industry. Soon after, the Outdoor Greatroom Company was born out of the idea that every home could have two living room spaces: one inside the home, and one outside. It was the Shimeks dream that every patio could be just as comfortable, elegant, and used as the living room.
The company soon began manufacturing products that would allow for a truly great outdoor room, from lighting and heating accessories to outdoor furniture. But one type of product really stands out, especially here at Home & Hearth Outfitters: the tabletop firepit. The Outdoor Greatroom Company has perfected the fire table with creations such as the Granite Fire Pit Table. With its simple design and chic marble-esque granite, this fire table will look stunning in your backyard.
If you want modern style to along with your heat, look no further than the Allure Sedona Table Top Fire Pit. This beauty encases the flame in a clear cylinder, so you and your guests can enjoy the light and heat in a sleek, portable firepit. If your patio is more on the rustic side, match your décor with the faux ledgestone look of the Sierra Fire Pit. This rectangular, table top firepit will be right at home here in the Rocky Mountains.
We are proud to stock the high quality firepits made by The Outdoor Greatroom Company. Because of their wide range of firepits and fire tables, we have something for every outdoor entertaining space – any style, any size, any budget. Make your patio warm and comfortable with a tabletop firepit that produces a warm glow with the press of a button. Make your patio a great, outdoor room.