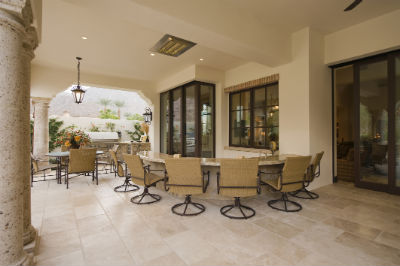 With 300 days of sunshine in Colorado every year, many homeowners take advantage of having outdoor kitchens in Denver. After all, there is no better way to expand your living area and make the most out of living in the great state of Colorado.
Before you begin planning your outdoor kitchen, there are several aspects to consider, but what it really comes down to is how you are going to use your space. Let's break it down and give you a head start in designing your new favorite place to entertain family and friends!
What Will You Make?
First things first: Start thinking about what you will be cooking in your outdoor kitchen and how you'll be cooking it. For instance, will you be doing most of your food prep inside or would you prefer ample outdoor counter space for slicing, dicing and marinating? If the idea of being inside while your guests are outside is less than appealing, an outdoor prep area is right for you. What will you be cooking in your new space that you can't cook now? You may be a super grill master, but maybe you dream of being able to smoke meats that your guests will "ooh" and "ahh" over or being able pull a wood-fired pizza out of your brand new pizza oven. Do you already own an outdoor gas grill but have been coveting the flavor and aroma of cooking with a charcoal grill? Now is the time to figure out what new appliances you will incorporate.
Where Will It Be?
Next, you may want to consider where your outdoor kitchen will be situated. If it is just outside, running in and out to grab utensils and supplies may not be a big deal. However, if you plan on creating your outdoor oasis on the other side of your yard or property, including ample storage for food, cooking equipment and dishes is a great idea. A small fridge for drinks, meats and various condiments is a great investment if you want to avoid the hassle of lugging coolers to and fro. Including a few cabinets and drawers to store pots, pans, skewers and spatulas is another convenience that will enhance your outdoor cooking and dining experience. Have you considered being able to wash your hands and rinse your dishes outside? Having an outdoor sink could be a real lifesaver when handling raw meats or making sure your kids' hands are squeaky clean before chomping into that perfectly cooked burger.
Who Will You Entertain?
Lastly, you will want to think about how much entertaining you will want to do in your outdoor kitchen. Is this place reserved for meal preparation only? Then you may want to consider a separate dining area. If you're the type of host that likes to chat and have a drink with friends while you are keeping an eye on the kabobs, you'll want to create enough space for people to mingle and munch without bumping elbows. Perhaps you should build a bar near your prep area with stools or include a couple of bistro tables nearby for guests to hover or rest. If you have big dreams of everyone gathered around a large farm table with platters and plates of your famous eats, think about how that will play into the overall design of your kitchen.
What is most important is that your outdoor kitchen works for you and your family. There is no reason your outdoor space can't be everything you've dreamed of. Let it be an extension of your home and your personality—a place for fun and conversation, whether you're entertaining a large group or having a quiet dinner with your family. Explore your options and enjoy the process. Bon appetit en plein air!