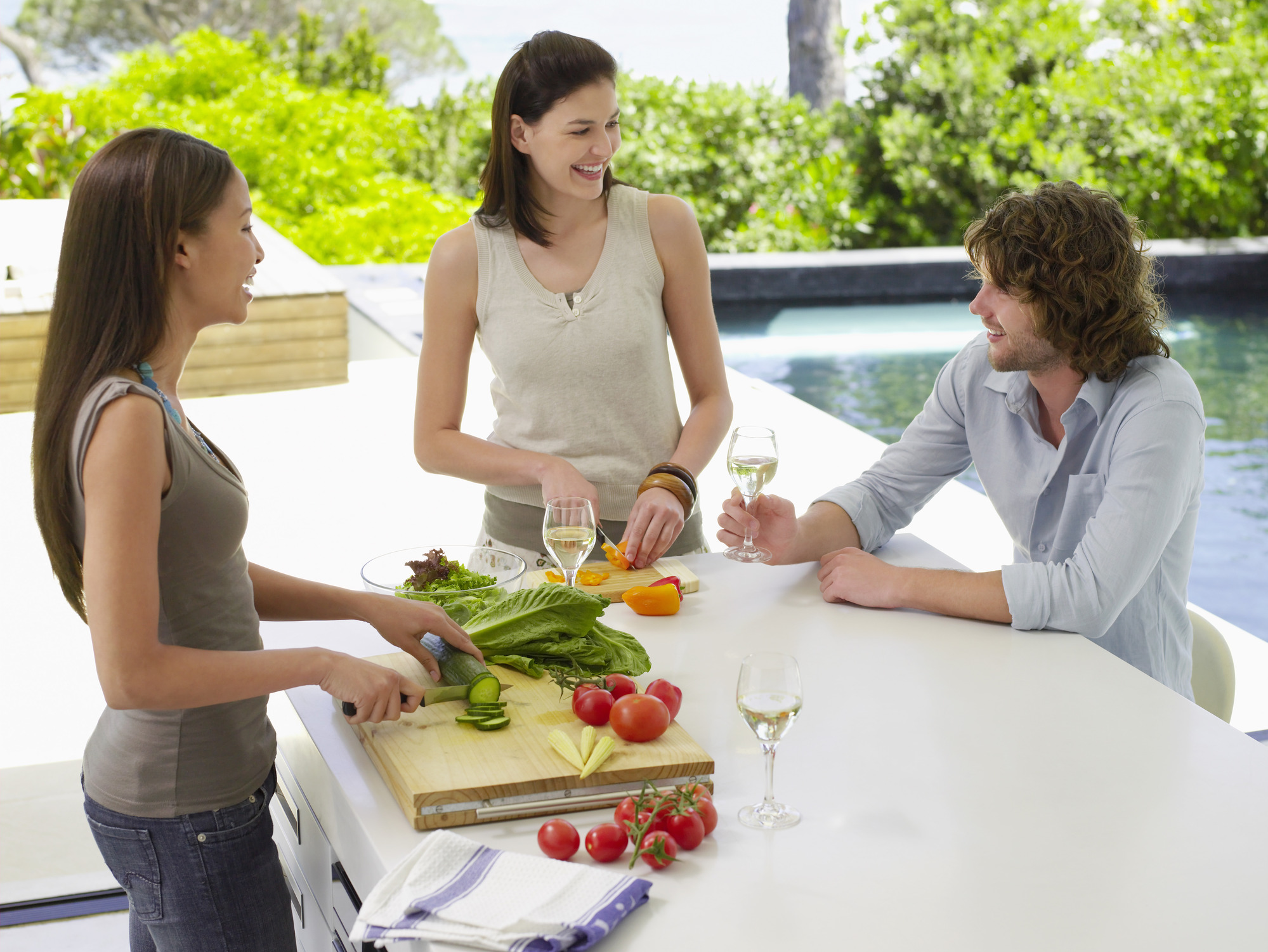 Everyone knows that Colorado has beautiful seasons. And now that the summer weather is here, and it's about time you start taking meal time outside so you can enjoy it! When you have an outdoor kitchen, you won't have to run back inside every five minutes during your cookout. Everything you need will be at your fingertips so you can socialize while making your guests a delicious dinner. You don't need to be a millionaire to have an outdoor kitchen – all you need is your own backyard. One of the best things about creating an outdoor space for entertainment and cooking is that you can do it on your own terms.
Simple Outdoor Kitchen
Just eating in a different setting can add fun and zest to your summer. If you aren't ready to build a luxurious but permanent outdoor kitchen, you can still give yourself everything you need to cook safely and easily outdoors with portable items. Start by choosing your grill – there are a ton of options, so you may need to peruse a showroom to figure out what you really want. Choose from gas or charcoal, and a range of sizes and features. If you don't want to build a permanent counter, a weatherproof table can serve as a prep space. Use a weatherproof caddy that also stores plates, silverware, and cooking utensils so everything is one place.
No matter which type of outdoor area you choose, you'll need a table and chairs for your guests. There are so many outdoor furniture brands to choose from, just get a set that is comfortable for dining (even if you aren't in love with the color or style, you can always add your own twist by using a table cloth). Add some lighting so your event can stretch into the night, bring out a cooler so you don't have to run inside for drinks, and you are good to go. Party on – outdoors!
Extravagant Outdoor Kitchen
For those homeowners who are looking to add some value to their houses, building an outdoor kitchen is an excellent (and useful) way to go. Outdoor kitchens have all of the conveniences of your kitchen, but in your backyard. They are perfect for big parties or small family meals.
Most outdoor kitchens come in a basic island form – one long counters pace that is also home to your kitchen appliances. You can choose a different shape for your outdoor kitchen, and a curved island looks beautiful and sometimes has more space to work with. Style your island with brick, stones, or whatever you think matches your home décor. If you are worried about the sun, you might want to build a sun shield or use sun umbrellas.
Choose your range – from a simple grill to a restaurant style with all the bells and whistles. Your grill is the center of your outdoor kitchen, surrounded by easy to clean countertops of your choosing. Next, start adding on the features that will make this space into an oasis. You'll need proper lighting if you want to use your outdoor kitchen long into the night, or during the shorter days of fall and winter. Many outdoor kitchens call for built in sinks and refrigerators, to wash and store food. It's certainly easier than going back and forth from your indoor kitchen to grab cheese for cheeseburgers or cold drinks for your guests. And if you want to provide some warmth during the evening, an outdoor fireplace will give off heat while looking absolutely stunning in your yard and providing a focal point for friends together around.
If you want to make your dream outdoor kitchen a reality, whether it is with a portable grill or a permanent island with appliances, you can find everything you need at Home & Hearth Outfitters. Make your summers to come memorable by spending time with your family and friends in your own piece of paradise.