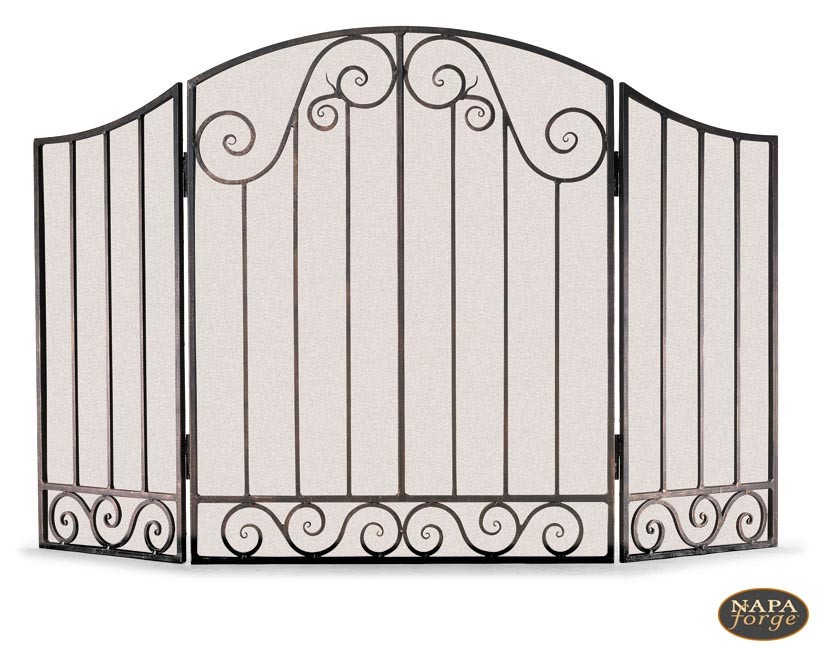 During the holidays, our homes are filled with lots of family – and plenty of little ones running around. There's no better place to host a gathering, large or small, than a cozy, fire-lit living room. But when it comes to fire and children, it's important to worry about safety first. That's why we are spotlighting one of our favorite companies, Pilgrim Home & Hearth.
With plenty of fireplace screen and accessories in a plethora of styles, Pilgrim makes sure the center of your home, the fireplace, is not only safe, but also beautiful. Pilgrim is recognized as the US's leading producer of handmade fireplace tools, including screens, wood holders, grates, and more. When you need quality to make your fireplace functional and stylish, you'll want to take a good look at the Pilgrim brand.
Whether your home is a modern marvel or a rustic country paradise, Pilgrim makes a set of accessories that will mesh with your décor. This Contemporary Flat Panel is simple, and won't distract from your living room's balance – yet will keep little hands and curious pets at a safe distance from your fire. If you want a design for your gas fireplace that also adds a touch of summer, try this flat paneled floral design, which comes with hand painted details and six tea light holders to add extra ambience to your room. It doesn't come with a mesh screen, so it is recommended for gas fireplaces only.
Many people like the look and safety features of a tri-fold safety screen. These screens give users a little more distance from the fire, and of course there are many looks to choose from. If you want an elegant, detailed safety screen, take a look at the Vienna, which comes in brushed pewter. For a simple tri-fold, bring home a Traditional Arch, a sleek black safety screen with gentle arches. It also features convenient loops so it is easy to pick up and move.
Pilgrim does more than just smart safety screens. The company makes well-designed bellows, wood holders, and tool sets. Match them to your screen, or pick distinct pieces for your décor. You'll have everything you need for your perfect fireplace setting with Pilgrim.