Like Japan itself, the cooking vessel known as the Japanese kamado has ancient roots going back millenia. Similar circular cooking vessels made from clay and ceramic going back 3000 years have been found at archaeological sites in China, India and elsewhere in the world. Its direct ancestor is the mushikamado,a round clay pot with a removable lid that was used to steam rice on ceremonial occasions. The very word kamado is Japanese for "cooking place."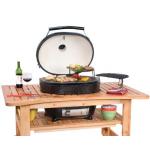 Chances are you've seen a lot of kamado cookers on the market in recent years as this type of grill has grown in popularity.  However, the Primo kanado grill has taken the concept much farther. Primo products offer unparalleled quality and versatility that is not available from competing kamado-style grills. For example, the Primo Grill XL features an oval shape – not round. This provides a generous 400-square-inch cooking area for grilling.  The products two-part firebox simplifies the task of cooking with indirect heat, and the thick, ceramic shell makes it virtually indestructible. Ceramic is much tougher than most people think: this is the material of choice for high-end brake linings, which can heat up to a thousand degrees or more during heavy use. The ceramic lining also insures that the cooking space stays hot when the lid is down.
You can use your Primo Grill XL for grilling steaks and burgers, baking bread and pizza, and even as a smoker.  Add some optional accessories such as reflector plates, roaster with drip pan rack and the Extended Cooking Rack, and there's virtually no culinary chore that you can't undertake.
The Primo Grill XL is the largest model we carry, but if you don't need that much firepower for your outdoor kitchen, there are other models from which to choose.  The Primo Jr. has the same features as the Oval XL with up to 310 square inches of cooking space for smaller patios and outdoor areas. There is also the Primo Round, which takes up even less space and offers the same cast iron chimney cap and ceramic lining.
We at Home & Hearth Outfitters are please to be one of the Denver area's leading Primo grill dealers.