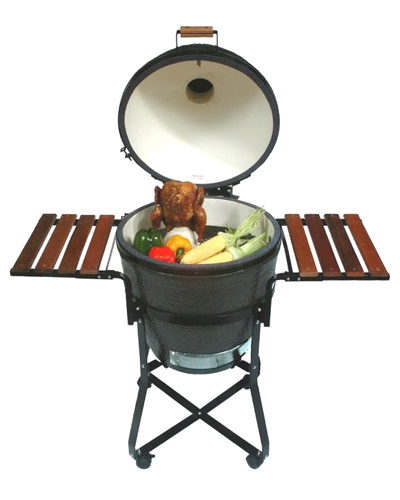 With hundreds of grill choices on the market today, it can make any Barbeque lovers head spin. From Charcoal to Gas, there are many different grilling options. The true BBQ connoisseur considers charcoal as the best option for flavor. Even though it may take a little longer to get fired up than gas, charcoal can make your food taste that much better. If you are considering different charcoal grill options, the Primo Kamado might be right up your alley. While the Primo's competition, the Big Green Egg, has similar features, the following is a breakdown on the differences between Primo and the Egg to see which choice is right for you.
Burning
Both the Primo and Big Green Egg both rely on charcoal as its main burning source. Charcoal has many advantages over gas such as portability and lower overall cost to operate. If you are shopping on a budget, then charcoal is your choice, plus adds slow roasting and flavor that cant be beat.
Accessory Options
As a grill master, the last thing you would ever want to consider is running out of room while you making your magic. Don't fret, the Primo, unlike the Big Green Egg, comes fully equipped with built in shelving to store all of your backyard culinary ingredients. The Primo Kamado comes with a variety of accessories to handle any type of food you throw in it. The grill just isn't made for burgers and ribs. The Primo Kamado can also be fit to cook eggs on our cast iron skillet add on or a pizza with our multi-purpose round rack.
Oval vs. Round
Unlike the other round ceramic grills available on the market, the Primo is an oval shape. What does this mean for the outdoor chef? The oval shape allows for the versatility of the types of food grilled with little effort.
Manufacturing
What activity is more all American than summer grilling? Raise up the American Flag and be proud to know that all of the Primo grills are manufactured in Atlanta, Georgia. The Big Green Egg is manufactured in Monterrey, Mexico.
The Truth is in the Lid
Why does a tall lid matter? When to optimize grilling, the more space the food has above the rack, the more even temperature on each side of the meat will occur. The Primo has a taller lid than the Big Green Egg. This will allow for more food to be cooked on the grill at one time.
Availability
Primo offers shipping within 24 hours of the order. The Big Green Egg sales are not available online sales, unlike all Primo grills.
Have more questions? Come by our showroom and see both charcoal grills in person or give us a call at 303.722.6698 (877.515.6366 outside the Denver area).