Summer is right around the corner. What does that mean? Grilling!!! For the many charcoal lovers in the market for a brand new kamado grill to kick off this upcoming summer grilling season, Home & Hearth Outfitters offers products from two different companies. Each representing the finest in ceramic grill manufacturing. First is the all-new Black Olive from Sherwood Industries, and the second is the tried and true Primo Kamado. As every savory steak master knows all grilling needs are not created equal, so you may want to take moment to find out the subtle differences between these two top choices in ceramic grills before you jump into this hot fire. While both the Primo and Black Olive grill both offer superior grilling, we will take minute to discuss a few main differences between these two grills.
Both capitalize on the benefits of a ceramic Kamodo grill and are able to withstand the harshest of climates while still retaining their signature sharp Oval good looks. By choosing either ceramic grill, there is no need to fill a propane tank or replace rusted out burners as they both rely on the grillers fuel of choice – charcoal. Ceramic grills endure the harshest of cooking environments and both are recognized for hassle-free grilling and great tasting meals.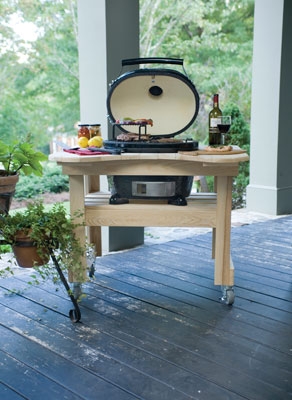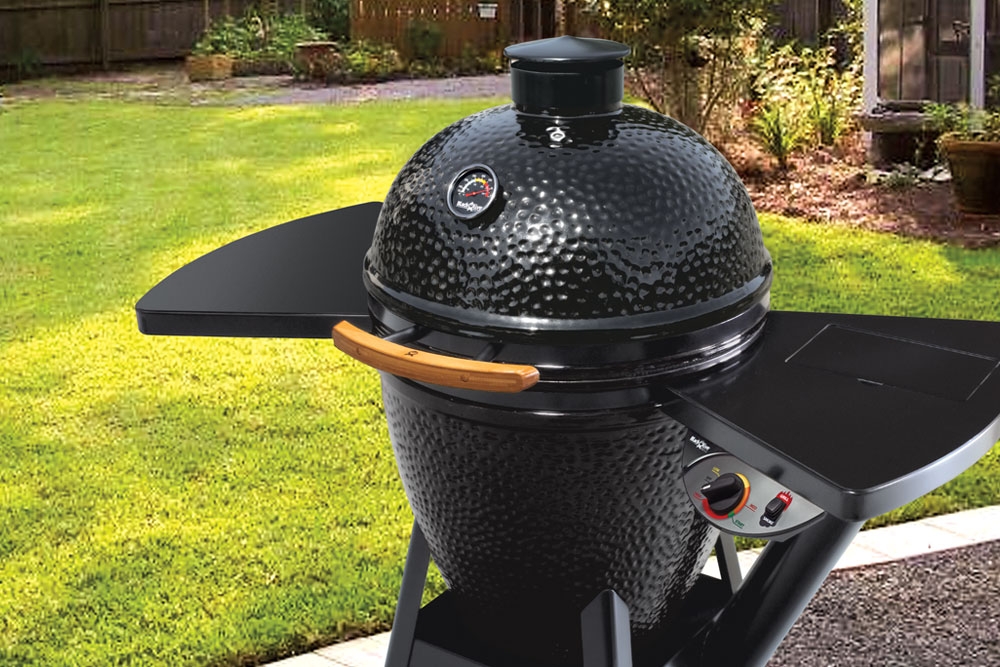 Choices in Fuel
The fundamental difference between the Black Olive and the Primo is how they cook your food. The Black Olive has been designed to use pellets as its fuel source- and is the only kamado to do so. In comparison, the Primo is a traditional charcoal grill. Are you a diehard traditionalist? If you answered yes, then the Primo is your grill. On the other hand, the Black Olive uses the Pellet feed to create a constant rate according to temperature control. If you like to "set it and forget it", then the Black Olive is your grill. Due to the automatic pellet feed, the Black Olive requires an electric source.
Choices in Accessories
The Black Olive also comes with two built-in wheels and its own collapsible side tables that are integrated as part of the unit. If you choose the Primo, you will have to purchase these features as an accessory. The good news is, that this offers choices between a simple cradle on wheels, or a full table (available in cypress and stainless steel) with heavy-duty, lockable industrial casters. Both companies offer a full line of added accessories including pizza stones, griddles, rib racks and adjustable grills to choose from.
Choices in Sizes
The Primo Grills come in three different sizes for meet all your grilling demands. . The Primo Oval XL, the Primo Round, and the Primo Oval Junior provide options in grill sizes. If you are an apartment dweller with limited patio or deck space, the Primo Oval Jr. with a sturdy, compact cradle will allow you to enjoy all the benefits of kamado cooking without taking up a lot of valuable room. If you frequently expect hungry guests, the Primo Oval XL can cook enough food for your small army. army (alright, that's a bit of hyperbole, there – but we trust the point is made). The Black Olive, while an excellent product, offers one size only. The grilling area is 19 inches that allows space for most tasks including roasting chicken or ribs.
Manufacturing
Both products are of superior quality and manufacturing. The Primo Grill is recognized as the only ceramic grill fully manufactured in the USA. Have more questions? Come by our showroom and see both charcoal grills in person or give us a call at 303.722.6698 (877.515.6366 outside the Denver area).