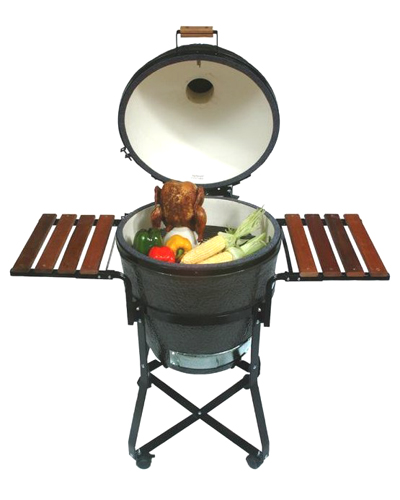 The happy news is that outdoor grilling is not just for summer anymore! Increasingly, intrepid souls willing to brave Colorado's winter weather are discovering the joys of year-round outdoor cooking. And of course, at Home & Hearth Outfitters, we provide virtually everything one might need in order to enjoy outdoor living throughout the year.
When it comes to preparing the holiday turkey, goose, duck or other kind of poultry, the Primo XL is the ideal cooker. Combining the best features of an oven and a grill, the Primo XL offers versatility that allows one to fry, grill or bake a wide variety of foods at an even and consistently high temperature.  Furthermore, with the Primo Ceramic Turkey Sitter, it's easier than ever to cook your holiday bird to perfection!
First Things First
Of course, preparations begin when you do your holiday shopping. How many guests will you be feeding? The general rule of thumb here is to allow approximately 1.5 pounds per guest – so if you are having ten people over, that works out to a fifteen pound bird (unless you plan to serve ham as well, as many dinner hosts do). In order to minimize actual cooking time and make sure the bird is cooked through, you'll want to make your purchase a few days beforehand – then allow it to thaw in the refrigerator. Which brings us to the next subject.
Food Safety
Even during cooler seasons, it's important to follow sensible precautions when working with raw meat and poultry. Get your bird prepared first and avoid using the same surfaces or utensils that are used to prepare vegetables – unless you plan to wipe down everything with bleach water and wash kitchen knives thoroughly in order to avoid cross-contamination.
You will also want to make certain your Primo XL is preheated to 350 degrees and that your Primo Turkey Sitter is in place. This device has a reservoir in which you can put cooking sherry or other wine, beer, fruit juice or whatever you like in order to keep your bird moist and flavorful during the cooking process.
Getting Down To Business
If you are planning on a glaze, now is the time to brush it on. You will probably want to continue basting it during the cooking process. If your turkey is stuffed, you should allow at least four hours' cooking time for a 10-pound bird. For heavier or smaller birds, adjust your cooking time accordingly. The best way to make certain the turkey is ready is by sticking a meat thermometer into it. If the temperature of the inside is at least 180 degrees, it's ready to remove from the Primo – but it should still sit for approximately 20 minutes before carving and serving. That, of course, is the perfect time to serve wine and appetizers!