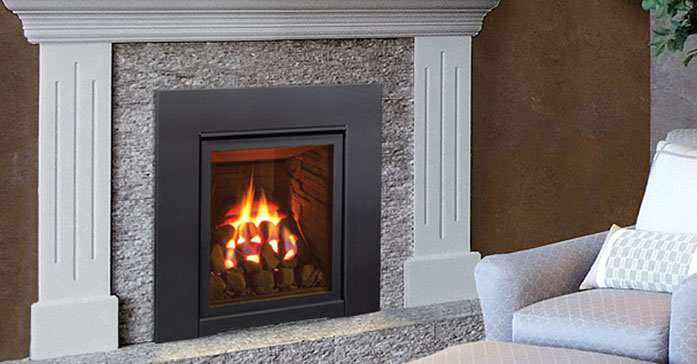 Enjoying an evening by the fire is a fall and winter tradition – especially in colder climates. Seasonal recreation like sipping cocoa while the sunsets, watching the evening snow, or staying up late on New Year's Eve all call for a warm hearth.
In Denver, homes that were built decades ago were made to last, and with their classic styling and charm, you'd be hard-pressed to find a better dwelling. But one thing that these classic older homes don't always have is a modern, efficient fireplace. Many older Victorian homes have a small fireplace that is virtually unusable today. Now, specifically to address this problem there are gas inserts for small fireplaces available. With the help of Enviro, Home & Hearth Outfitters has helped to bring this product to market – specifically to solve this problem for homeowners with small older fireplaces. Up until now, virtually no products to fit these fireplaces were available from American manufacturers, presenting a challenge to owners of these older homes who faced the dilemma of having fireplaces they cannot even use.
Characterized by shallow depths and small openings which are taller than they are wide, the new Q1 modern insert allows homeowners to utilize their small fireplace space and produce warm and efficient heating. The Q1 is easy to install, totally customizable for your home, and has adjustable air circulation and BTUs so you can get the perfect amount of heat. The Q1 from Enviro is in stock at our stores.
Retrofit Your Small Fireplace with a Modern Insert
This insert is a perfect way to retrofit your fireplace. The Q1 fits perfectly into older fireplaces, and makes your gas insert retrofit choice easy! You may already have an older gas fireplace, complete with less than adequate "logs" and older, less efficient technology. Or you may have tried using this small space as a traditional wood-burning fireplace and found that the venting is far less than adequate and not actually usable for wood burning. Either way, the next time you consider making a big change to your living space, think about remodeling your fireplace in order to bring your mantle into modern times.
Customization and Convenience
A gas fireplace is convenient. With the touch of a button, you have a roaring fire. And when you decide to use the Q1, you have plenty of décor options. Because this fireplace has so many different looks, you can choose the size, color, texture, and material that mesh with your home.
Add a rustic feel with a rock panel surrounding your fireplace. If you want a more modern look to match your décor, choose from our many patterns and materials including stainless steel. You can also customize the inside of your fireplace by choosing the liner that best suits your home, including brick or ceramic tiles. All of these fireboxes are hand-welded, ensuring you get quality and beauty with every install.
Even though you are using the convenience of gas, you will make your fireplace unforgettable with a high-definition log set that brings an even warmer feeling to your room. You can also choose to outfit your new fireplace with a modern fire-glass burner or a rustic-looking coal burner instead of the traditional log burner.
Safety Features for The Whole Family
The Q1 is a safe and convenient option for families. With the safety screen that comes with each Q1, you don't have to worry about ever accidentally touching the hot glass. A convenient remote control allows you to use and adjust your fire from anywhere in the room, and the programmable thermostat helps you set and maintain your heat.
Many people shy away from gas fireplaces because they believe that during events when you really need your fireplace – like when a freak snowstorm has knocked out your power – it won't be available. Gas fireplaces also allow you to avoid the after-the-fire clean-up that takes some of the fun out of wood-burning fireplaces. But that is simply untrue with the Q1 from Enviro. Even if you don't have power, you can still use the fireplace to keep your family warm.
If you want to make the switch to a modern, efficient gas fireplace from Enviro, come see the options we have for you in the showroom. You'll be glad you did once winter rolls around! We provide full service fireplace installation services and can help with any question you have regarding upgrading or retrofitting an older fireplace.