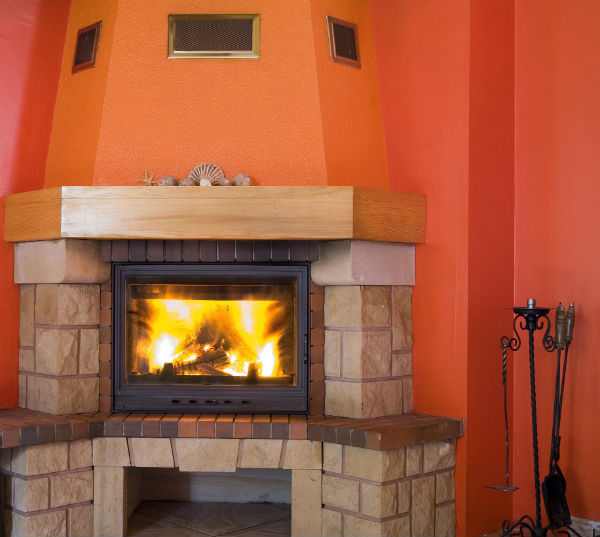 A real wood-burning fireplace can add a lot of charm, ambiance and even value to your home. That's the good news. The bad news is that they're sooty, dirty and require a lot of maintenance – and they don't really give off much in the way of heat. In fact, although fireplaces and fire pits have been the traditional way to heat living spaces for centuries, they're perhaps the least efficient way of providing comfort heating (unless you're right in front of the flames).
For modern construction, it can be a moot point; building codes in many municipalities now prohibit wood-burning fireplaces due to air quality concerns and safety regulations. Even people with older homes that have existing wood-burning fireplaces are installing gas inserts and modern wood-burning stoves that are cleaner, more efficient and, best of all, really provide heat for an entire room on cold winter nights. Even if all you want is the visual charm of a fireplace, modern gas and electric fireplaces are available with faux logs and flames that are quite realistic.
But let's get back to more practical concerns. Modern wood stoves and fireplace inserts are designed to burn fuel more completely, giving off far less in the way of polluting emissions. And gas models are virtually emission-free. Fans and blowers spread heat evenly throughout the room, and the latest models run quietly – so you and your family or guests would never know they're operating.
Still want that ambiance? Many makes and models we carry here at Home & Hearth Outfitters have glass openings, allowing you to see the flames and providing that cheery golden glow we associate with old-fashioned fireplaces. Own an older home? Wood and gas stoves and fireplace inserts are available in a range of styles to fit any décor, including Early American, Victorian, Art Deco and Midcentury Modern.
When deciding whether your home could or should have a fireplace (assuming it doesn't), the primary thing to consider is construction and zoning. You may have to make a few calls or do some research because building regulations and codes vary from one area to another. In some cases, an older home (built prior to the 1970s) can be "grandfathered" in – but keep in mind that the cost to build a proper fireplace and chimney can be high, and unless you're planning to add an insert or stove, it may not be the most economical choice for comfort heating.
Compared to adding a wood-burning fireplace, installing a gas fireplace or a stove is a relatively simple and straightforward process. This is not to say that it shouldn't be done professionally; unless you have experience and know what you're doing, it's best and safest to have the job done by an experienced contractor. (In fact, your homeowner's insurance may require it.) Our experienced installers will make sure the job is done right, and our work is guaranteed.
If you aren't sure exactly what you want or need, take a look at our online selection or come visit one of our showrooms in downtown Denver or in Vail. Our sales representatives will be happy to assist you in making the ideal choice for your home.