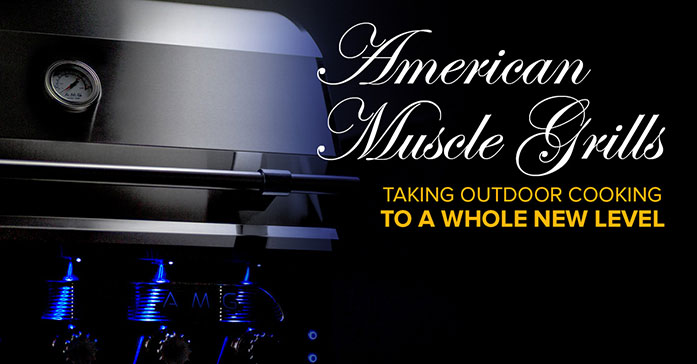 If you take your backyard grilling seriously, you need an equally serious grill that can stand up to the challenge. The American Muscle Grill takes outdoor cooking to a whole new level.
Forget a 2-in-1 charcoal and gas grill. The American Muscle Grill supports seven different cooking fuel options in a single unit. This 100,000 BTU unit offers grillers the option of using charcoal, lump charcoal, wood chunks, natural gas, liquid propane, an infrared burner or pellet fuels. With the innovative multi-fuel tray system you can even use more than one fuel at a time or quickly and easily switch between fuel types. If seven cooking options aren't enough, American Muscle Grill offers an additional commercial-grade rotisserie that features a 100 lb. motor. Reversible grates, removable fuel trays (that hold charcoal, wood chunks or pellets), infrared burners that are compatible in four positions and adjustable hood vents (for controlled smoking) further extend the grill's utility. If you love grilling with charcoal or wood-smoking but don't like struggling to light the fuel, you'll love the American Muscle Grill's built-in gas capabilities that easily light other fuels.
This state-of-the-art grill is designed and built entirely in the US and features high quality materials, like #304 Stainless Steel. The grill grates and fuel baskets are also made of durable stainless steel for longevity. The grill hood is double lined and features spring assist for easy opening and closing. An optional full-width hood handle makes this grill even easier to use. To ensure you're grilling in style, the American Muscle Grill comes with leather gloves and a grate tool that allows you to easily lift and hold hot grates what you replenish, adjust or change the fuel below.
To further set itself apart, this bright stainless steel grill features stylish blue external LED lighting over each knob. The cooking surface is just a hair over 1,100 square inches. The American Muscle Grill is available in a 36 inch or 54 inch model.
Home & Hearth Outfitters is a proud carrier of American Muscle Grills and will have these impressive grilling machines in stock this spring. This multi-use grill will enable you to try a range of recipes and flavors that would previously require multiple grill styles. Now, you can get a charcoal grill, gas grill and smoker all in one convenient, powerful and sleek unit. It's time to take your grilling to the next level. Stop by the Home & Hearth Outfitters showroom and ask us about the impressive American Muscle Grill.