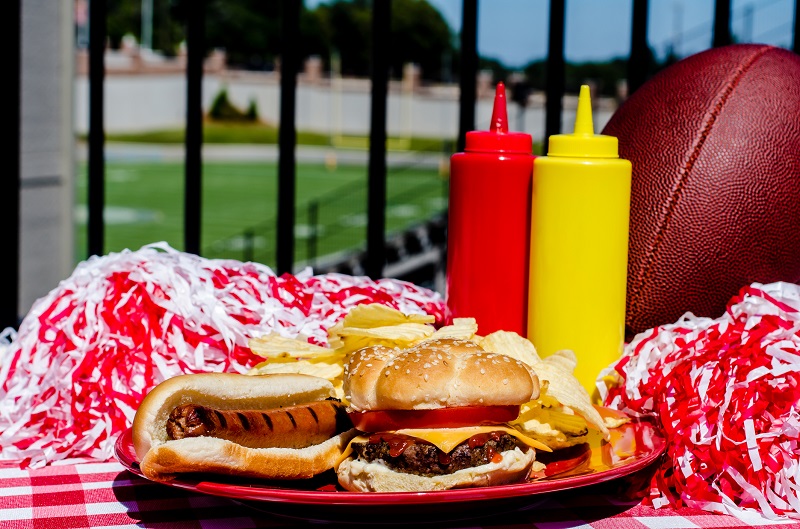 Football season is here again, and with it comes an opportunity to participate in a good ol' American tradition: the tailgate party! Tailgating is a fun time for the whole family, with lots of friends, lots of food, and a chance to get out your portable grill. Tailgates are a great excuse to make chicken wings, fajitas, steaks, burgers, sausages, and whatever meaty meal that comes to mind. But to make sure your tailgate goes off without a hitch, you'll need to be prepared. Here are a few must have accessories that you don't want to forget for the next tailgate:
Meat Thermometer
A Meat Thermometer is a simple tool that is small enough to often be forgotten in your kitchen, even though it's one of the most important things for your tailgate. Food safety is a priority, and eating undercooked meat can be dangerous – especially for young children, pregnant women, and older adults. Ground beef should be cooked to 160°, where chicken needs to heat up to 165°and steaks need to be cooked at a comparatively lower 145°. You should bring multiple thermometers to check different meats to avoid contamination, or invest in single use alcohol swabs to sanitize your meat thermometer between uses.
The Grill
You need something to cook all that delicious food! That makes the grill your number one priority. While it's unlikely you will forget it in the driveway, you might want to consider what type of grill is the best for your tailgate celebration – especially if it's time to buy a more portable one. Our charcoal grill, the Primo Oval Jr., is great for small spaces (like the bed of your truck!) and features a unique two-sided grate that allows you to position each side at different heights for cooking different meats. If you are a slave to gas grills, this portable beauty is for you. The Napoleon Travel Q Grill Set Package has everything you need to make delicious tailgate food – quick ignition, stainless steel burners, large grill space, removable grease tray, a stand, cooking tools, and it's easy to set up and tear down. It really comes down to a matter of taste; if you're used to using gas or charcoal, you'll probably be most comfortable sticking to the same for your tailgate grill.
Your Fuel
Whether you prefer propane tanks or love the taste of charcoal-grilled food, you're going to need one or the other to fuel your hours of feasting. I always find it helpful to throw an extra tank or bag of charcoal in the tailgate kit, for those just in case moments (when neighbor needs some fuel, or when you're cooking far longer than you expected).
Quick Start Matches
You want a hot grill to cook on, right? Quick start matches are a must have if you are in the charcoal grill camp. If you don't want the taste of lighter fluid, try using a chimney starter or a pyramid of charcoals with kindling underneath – strike a match, catch your kindling on fire, and let the heat seat each layer of coals alight.
Sitting Area
You want to have a comfortable place to feast, but you also need to be able to fit anything you bring into your vehicle. A chair to sit in and a table to put your pre-burger sides, like chips and dip, is the minimum for a comfortable tailgate. Folding chairs and tables that fold into flat surfaces can allow you to pile more stuff right on top of them – if you have a second car coming along, you'll have room for more furniture as well as more people to party with. If you're expect a lot of sun, you'll want to pack a canopy to ward off some of that extra heat (sunblock is a good idea, too).
Filled-to-the-Brim Cooler
Don't forget to fill up your cooler with more than just meat. You're going to need condiments for burgers and dogs, including some lettuce, tomato, and onions, and you'll need some side dishes and drinks to round out your meal.
Clean Up Supplies
If you're cooking ribs, or you just have a penchant for messy eating, make sure to pack some clean up supplies. Wet wipes, paper towels, and trash bags will get you through the tailgate with less grease on your door handles and free-floating trash ending up on your car floor.
Tailgate time is a special time of year. And while it may not last very long, it's important to cherish it while it does. So get out your grill, pack your gear, and get ready to party – tailgate style.