Traditional interior home décor is a popular and timeless trend. The design may sound simple, but like every other style, must be done well to make your home stand out. When we think of traditional design, we see bold choices and ornate details in everything: from rich mahogany furniture to elaborate accents like handles or bedposts. The origins of traditional home décor reach back to Europe of the Napoleonic and Victorian eras to the time of castles, lush estates, and plenty of luxury within.
Because traditional design is luxurious and classical, a fireplace will fight right in to your décor. Nothing says warmth and lavishness like a cozy place to gather with your clan. If you are remodeling or redecorating your traditionally styled home to include a new fireplace, here are some top choices that will keep you true to that traditional feeling.
Two popular manufacturers of traditional styled fireplaces we represent include Marquis and Town and Country. We've featured a few favorite picks from these top of the line companies. Come into a our showroom and let us discuss what models best suit your home décor.
Town & Country TC54
This magnificent fireplace is not only a perfect match for traditional décor, it's also a convenient and efficient gas fireplace. The clean face of this design allows it to fit into any grand living room, and the glass that encases your fire is so non-reflective, it will seem like there is no glass between you and your roaring fire. It's easy to use – simply push a button and your fire comes to life!
Town & Country TC36
If you want an arched frame to be the centerpiece of your traditional living room, this is the perfect gas fireplace. The traditional arch makes this fireplace even more beautiful, and you can choose from many different materials (brick, tile, porcelain, and more) for your arch and firebox – so this fireplace will mesh with your existing décor or the new pieces you are bringing in for your traditional makeover.
Majestic Marquis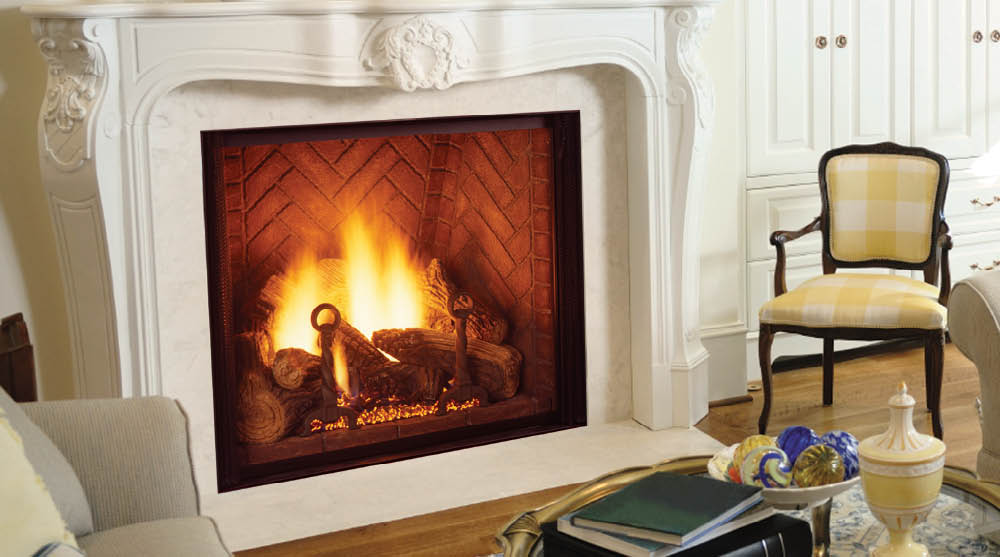 As the brand name suggests, the Majestic by Marquis is wonderfully detailed, ornate, and luxurious. Not only is it a safe, efficient gas fireplace that allows you to have a roaring fire with the push of a button, this product features a large range of controls so you can have a flexible fire experience. There's also mood lighting which can be set to accent your fireplace – nothing is too luxurious for a Marquis owner. Available in three sizes to fit into any traditional living room.
Majestic DBVH
A classical look is important to traditional design, and this direct vent gas fireplace allows you to customize the look of your firebox bricks with classic choices. This product gives owners magnificent fire views from nearly any angle, and the aluminized pan burner makes for realistic flames that dance around similarly to a wood-burning fire. The Majestic DBVH is also super-efficient; with an Annual Fuel Utilization Efficiency rating of 71%, you'll be able to heat your traditionally styled home while saving money on fuel.
With any of these gas fireplace options, you'll be able to conveniently add a focal point into your traditional living room. Family and friends will love to gather around the hearth, enjoying the warmth of an easy to use gas fireplace as well as the classical style.