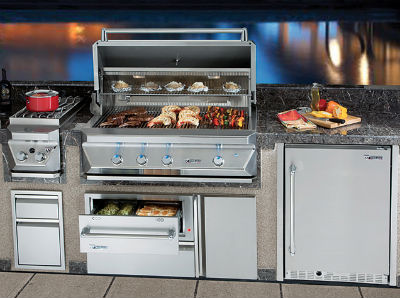 The popularity of outdoor kitchens and backyard griling is still heating up (har har), and you have plenty of options for how you choose to entertain outdoors. From a simple cookout in the backyard using your freestanding gas grill to a posh party centered around your full outdoor kitchen and bar, there is a lot of fun to be had in cooking, eating and relaxing outdoors.
If you want to upgrade your outdoor cooking space, a high-quality grill needs to be at the top of your shopping list. With food at the center of so many outdoor gatherings, your ability to cook great food to share with family and friends will only be enhanced by investing in a premier grill.
For the best in quality and style, Twin Eagles and its sister company, Delta Heat, produce both built-in grills and freestanding grills that offer maximum functionality encased in beautiful design. Here is a rundown of some of the great features of these grills.
High Performance
The design of Twin Eagles and Delta Heat grills draws on decades of experience in creating grills and cooking equipment for both residential and commercial kitchens. As a result, the performance of these grills is top-notch. They are designed with clever details that make every part of the cooking process as easy and enjoyable as possible.
Twin Eagles and Delta Heat gas grills use a combination of direct flame heat and ceramic briquettes, which add radiant heat and help to evenly heat the cooking grate. This design means the grill heats up faster and also uses less gas, with the ceramic helping to capture and direct heat exactly where it is needed. The grate itself is designed to capture heat as well, with special hexagonal spines that provide more contact with the food and also create beautiful sear marks. The grill also has zone dividers that allow you precisely control temperature on different parts of your grill for simultaneous cooking of multiple items.
High Style
If you want to build a beautiful outdoor kitchen, choosing the right appliances and accessories is important to create the perfect look and feel to complement both your home and your outdoor space. Also, entertaining outdoors means your guests will likely share this space with you, so choosing a stylish gas grill can create the perfect focal point for your outdoor kitchen.
Gas grills from Twin Eagles and Delta Heat are built with beautiful geometric design, combining touches of modern style with classic elegance and high performance. They fit seamlessly into many styles of architecture. Built to rigorous quality standards, these grills are seamlessly constructed and highly finished. Their quality and style are sure to add to your outdoor entertaining space, no matter what form it takes.