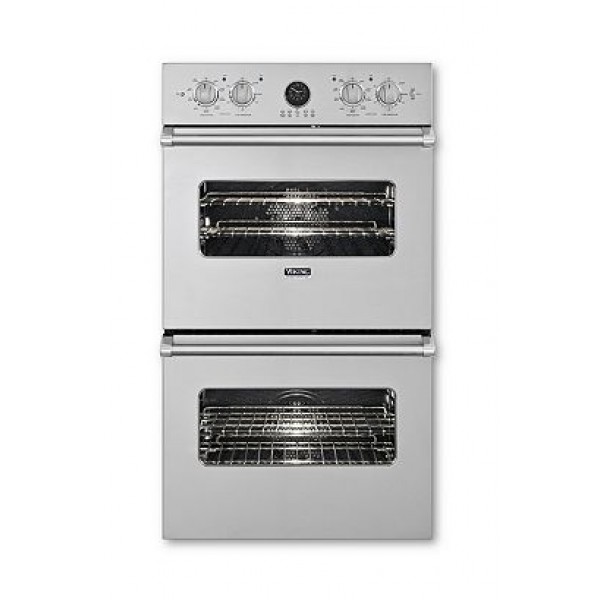 For many people, cooking is not only a required chore – it's a beloved pastime. That's why, if you're truly serious about your time spent in the kitchen, Viking is the appliance brand you know and trust. And we're serious about getting Viking into your home – so you can hone your skills and learn techniques in a top of the line environment. Your taste buds will thank you!
Home Oven
Cooks, both pros and amateurs alike, can recognize the need for a premium oven – and Viking has an oven that will suit your needs, whether you like to go all out or just want a simple workhorse machine. For everyday cooks, or for people who are looking ahead to the holiday season, an oven with two distinct cooking spaces is a must have. The benefits are clear: cook a casserole while your dessert is also baking; make two dishes with different cooking temperatures in time for dinner; turkey and all the trimmings are no trouble with a double oven. If you want a super modern look for your double oven appliance, check out Viking's sleek.
All Viking ovens have the power you need to make delicious meals, including Gourmet-Glo™ Glass Enclosed Infrared Broilers, TruGlide™ Full Extension Racks, and powerful cooking convection, whether you decide on a double oven or single. If you want to take it up one more notch, consider a combi oven. This type of oven uses both dry and moist heat to cook food in far less time than a conventional oven.
No matter what type of oven you decide on, Home & Hearth can help make your kitchen dreams come true with our selection of Viking products and our friendly kitchen install services.
Cook Tops
A great range can come in many forms – gas, electric, induction, and more! And with Viking, you can choose the right cooktop for you. Viking's gas, electric, and induction cooktops feature strategically placed cooking units, so you have the freedom to cook however you want. Electric cooktops are created with special glass that is resistant to wear and a breeze to clean. If you want lots of energy savings, induction cooktops are key; the Power Management induction system gets hot quickly and cooks faster – saving you time and energy. Viking cooktops are compatible with other Viking products, just ask us about how you can mix and match appliances to create your perfect cooking system.
Viking Has All Your Kitchen Needs
Viking is committed to energy and water efficient appliances, from refrigerators to dishwashers. Every aspect of cooking, eating, and cleaning up your dinner can be aided with an American-made, high-quality Viking appliance. Viking products come with a three year warranty, the industry's best and most complete warranty, so you can have the peace of mind that comes with a quality product. No matter what type of Viking kitchen appliance you are considering, we can work with you to provide quick and easy installation during your kitchen remodel.