Outdoor Kitchen Design and Accessories
One of the great pleasures of summer is being able to entertain guests in your outdoor patio area. Having a grilling area and bar service outside allows you to fully enjoy meals outside. Outdoor kitchens are increasingly in demand as Denver homeowners choose to make the most out the warm climate and fully utilize their yard space for entertaining and relaxing. An outdoor kitchen can include any number of functional cooking equipment and bar service needs. From cabinets and built in grills to dishwashers and refrigeration, the possibilities are now greater than ever. Home & Hearth Outfitters can help you design and build a custom outdoor kitchen, in addition to supplying the most respected brands in outdoor kitchen equipment available.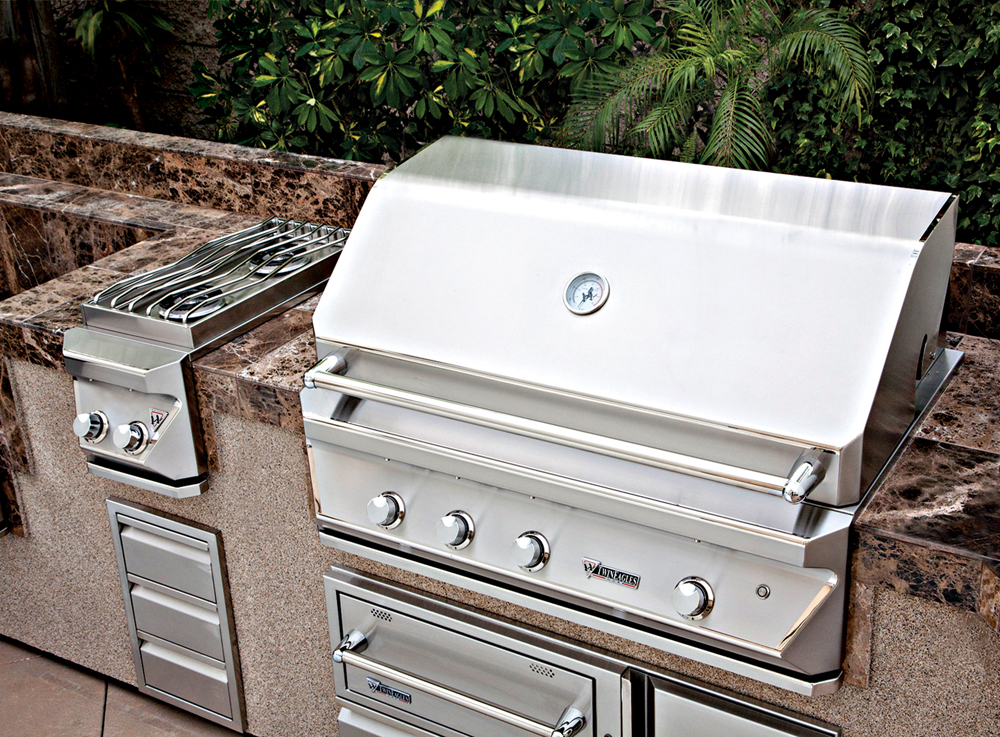 A completely outfitted outdoor patio kitchen makes outdoor entertaining a breeze. Having a full bar and grill area make it easy to host a gathering outdoors. The outdoor kitchen grill sits at the center of it all and is often considered the most important piece. We offer the best names in built in grills for high quality and advanced features. Our full line of outdoor grills include gas grills from Solaire, Viking, Vermont Castings and Napoleon; Ceramic Charcoal Grills from Primo; and Electric Grills from Outdoor Great Room.
Built In Outdoor Kitchen Equipment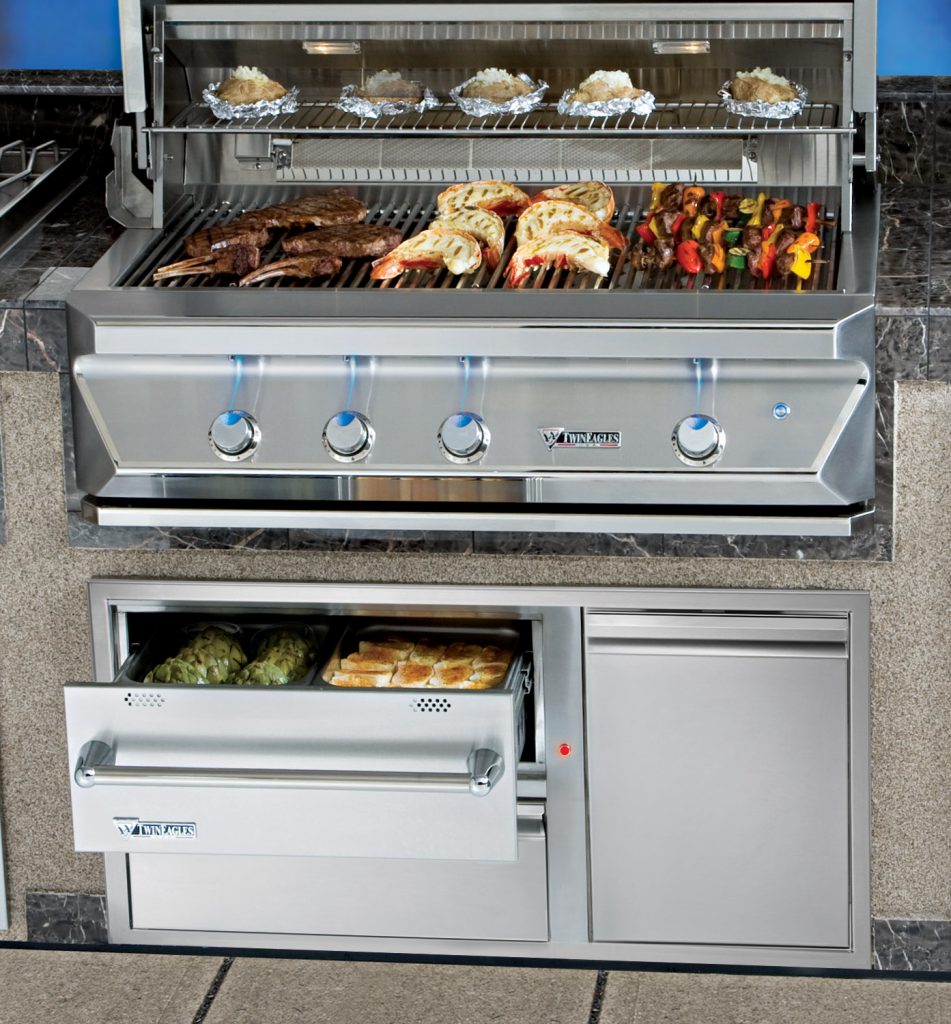 In addition to built in grills and ranges we offer sales and design help for all manner of outdoor kitchen equipment, complete with custom enclosures and built-in or portable stainless steel cabinetry. We can help in everything you need to build a complete outdoor kitchen ready to grill, sear and smoke foods to perfection. Outfit your custom outdoor kitchen with specialty side grillers, burners, woks and range tops, and be prepared to serve a full range of dishes. For the best pizza ever, consider adding a wood fired pizza oven from Quintessential Outdoor Living to your patio area – you will never order take-out pizza again.
Refrigerators, Bars and Cabinets
Other unique outdoor appliances to consider adding to your patio kitchen would include ventilation, refrigerators, stainless steel cabinets and refreshment centers. Ventilation systems used in conjunction with outdoor grills allow cooking odors to be effectively removed from the patio area. Refrigerators allow you to store foods at proper temperatures prior to cooking for food safety, plus store drinks for easy access. Stainless steel cabinetry will keep all of your cooking supplies safely stored and dry until needed. Refreshment centers offer a sink with running water, cutting board, insulated bottle bath and ice bin, along with an additional storage shelf. This is a handy way to have everything you need for drinks on the patio in one compact unit.
Talk to us today about the options for your outdoor living area.