Switching to Gas Inserts
There is a trend in the world of fireplaces for replacing gas logs with gas inserts. At Home & Hearth Outfitters, we work directly with homeowners that are going this route. Homeowners interested in the switch from outdated gas logs to modern inserts will be pleased with our showrooms in Denver and Vail that offer a wide selection of premier gas inserts for gas logs replacement. We provide assistance, consultation and complete installation of gas inserts in the Denver, Vail, and Summit County areas.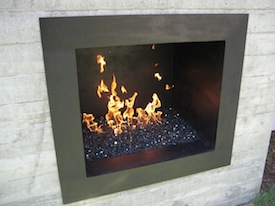 Before we discuss why so many homeowners are on a mission to switch gas logs to gas inserts, let's discuss what gas inserts actually are.
Gas inserts are fitted within and existing open fireplace box with a sealed and enclosed system which uses gas as a heating source. Specifically designed to be efficient and warm, gas inserts output enough heat for a large room and are a low cost option compared to a complete renovation. These inserts can be installed in a variety of fireplaces, such as a masonry fireplace, and factory units.
The switch to gas inserts allows for the use of a remote control and thermostats.
There are designs and sizes of inserts to add a variety of design options to any modern home. Making the update from gas logs to gas inserts is often chosen to create a new and stylish look, while adding the cost savings benefits of an improved heating source.
A primary reason many people switch gas logs to gas inserts is for the cost saving power and fireplace efficiency. Those who opt for gas logs replacements find their heating costs drastically lowered. Overtime, this can lead to the saving of a great deal of money.
A gas insert is also easy to operate. With a switch, a gas insert can be turned on with ease, convenience, and full control.
In addition, gas logs replacement is done to add safety features to the fireplace. Instead of having to be near the flame, as you do with traditional fireplaces, a gas log replacement option adds a layer of safety glass to prevent children from touching the flames.