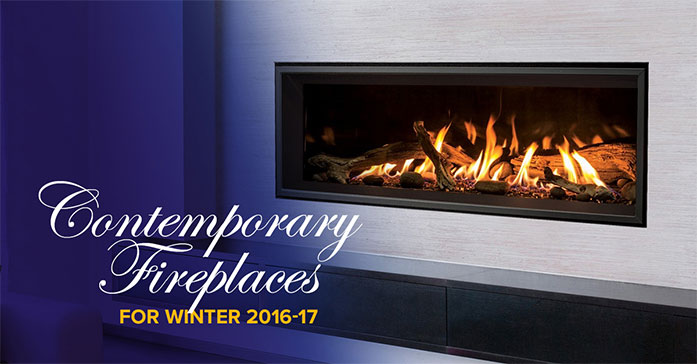 At Home & Hearth Outfitters, we have a wide variety of contemporary fireplaces to choose from. Our inventory of gas, wood and electric inserts and fireplaces include options from leading manufacturers including Enviro, Pilgrim, Ortal, Jotul, Town and Country, Marquis and others. Our team, which has been helping make homes beautiful and comfortable since 1992, has reviewed the best options from our selection of contemporary fireplaces and found the top three.
Modern and contemporary fireplaces have boomed in popularity in recent years. They are receiving constant mentions on HGTV shows and, as modern interior designs evolve, their styles fit in better with sleek, minimal designs. Not only are they more efficient, save money and run cleaner, they have a contemporary, sleek look that traditional fireplaces don't. A linear-looking fireplace that burns on river rocks or with a single line of flames fits well with a large TV hung over it or with minimalist design. The contemporary look, however, still exudes the same warmth and cozy appeal of a fireplace that people know and love.
Here are the top three recommendations for contemporary fireplaces from the Home & Hearth Outfitters team:
---
Pacific Energy Brentwood Insert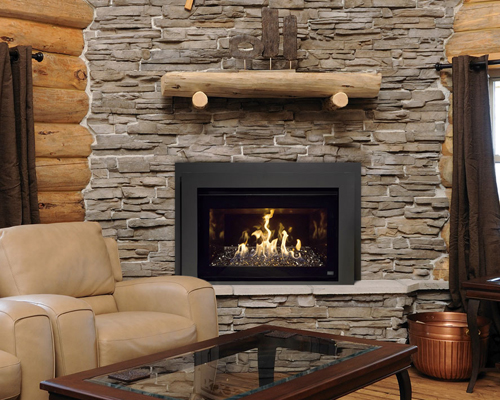 Pacific Energy, a company that has long established the standards in wood stoves, has pioneered new technology and high efficiency designs with the goal of being the leader in gas inserts and fireplaces. Pacific Energy's precision engineering and top quality components deliver a long, trouble-free life, efficient heat transfer into your home and quiet operation as the unit heats and cools. Their inserts and fireplaces also have integrated micro-mesh safety screens to provide a near-invisible safety barrier.
Our team's top pick is the Brentwood Insert, which is Pacific Energy's largest gas fireplace insert. It has clean lines and a broad viewing area to enhance any home. Pacific Energy's engineering, such as co-linear venting and aluminum cooling fins, provides maximum heat exchange and energy efficiency.
---
Enviro C44 Gas Fireplace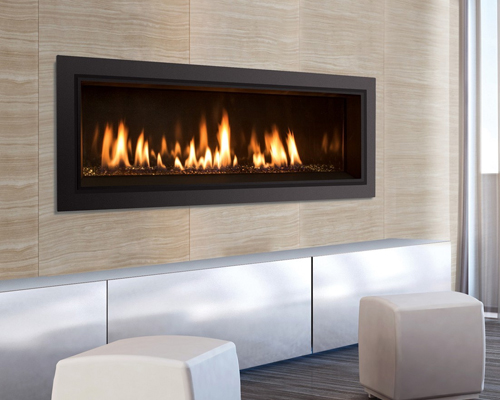 Enviro is known for their high-quality standards and designs as well as their wide range of options and styles in fireplace inserts. This past summer, Enviro introduced their latest C line of gas fireplace inserts, which brings a fresh new series to an already expansive list of insert options. Home & Hearth Outfitters is excited to offer the Enviro C44 linear fireplace to customers looking for a sleek look with detailed, durable construction.
With a contemporary linear design and customizable choices of liners such as stone or porcelain enamel and glass bead kits or realistic log sets, this is a great choice with many design options for any modern home.
---
Ortal Front Facing Clear 130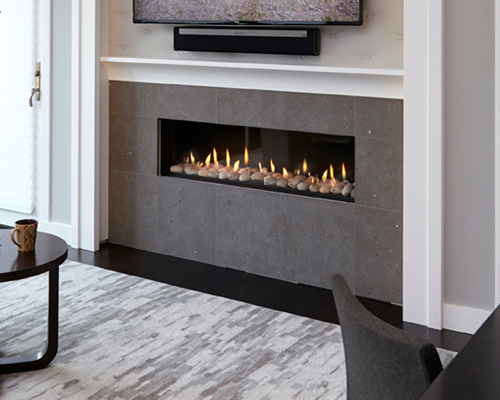 Ortal creates modern and contemporary direct vent gas fireplaces that are a comforting focal point in your home. Ortal has one of the largest selections of modern fireplaces and is recognized for their ultra-modern designs and innovative features.
A leader in new design features like their patented double pane safety glass heat barrier technology and cool wall technology make Ortal a brand to watch. The Front Facing Clear 130 is our top pick due to its sleek design, propane or gas options and double glass option.
At the Home & Hearth Outfitters showrooms, we have over 45 fireplaces on display with a superior selection of styles and sizes. No matter which design you choose, we have the contemporary gas fireplace inserts to suit your home and create a warm, cozy spot for you and your guests to enjoy.