Outfit Your Fireplace with Gas Logs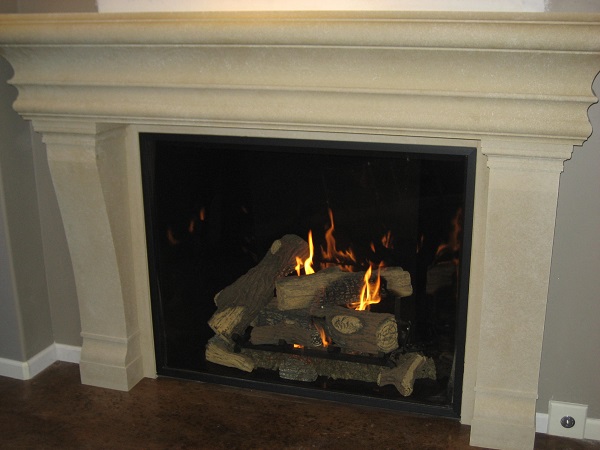 Home & Hearth Outfitters sell and install the leading gas log fireplace brands. We carry top national brands like Eiklor, Golden Blount, RH Peterson Real Fyre, Rassmussen and Hargrove. Gas logs are most favored because they allow for the natural look of an open fireplace with eye-catching logs, without the added hassle of cleaning up ash and soot after you enjoy your fire. Both our Denver and Vail locations carry top-of-the-line, ultra-realistic and natural-looking logs.
Whether choosing to upgrade an outdated log set, switch an existing fireplace to gas logs or deciding whether to install a set in a new fireplace construction there are many considerations. To help you with your purchase, we have put together some frequently asked questions that come up when buying and installing gas logs.
Can gas logs be used outside?
Gas logs are available for both indoor and outdoor use. Home & Hearth offers indoor log sets and ones for outdoor fire pits. In general, outdoor fire pit logs have a weather resistant stainless steel burner system to ensure longevity in the elements and to resist rust and corrosion. With periodic maintenance a top quality log set will last a lifetime.
What are the average operating costs?
Compared to gas inserts, gas log sets are one of the least expensive choices when it comes to powering a gas fireplace. Efficiency can vary, but gas logs put out less heat than an insert. Installation costs run between $400 and $1,000. Comparatively, gas inserts cost from $2,000 to $4,000 for installation.
Eiklor is one of the most efficient manufacturers we carry with models estimated to be twice as fuel efficient as other brands.
What are the basic requirements for installation?
Gas logs are installed in a working wood-burning fireplace that has a functioning chimney. Gas logs are made to be installed in wood burning fireplaces as a way of converting them to gas – and are not safe to be installed in a gas fireplace. Home & Hearth Outfitters does not carry or install vent free gas logs, because they do not work at Denver's altitude.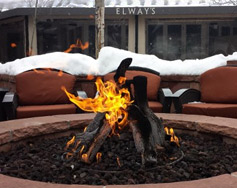 What are the advantages of gas logs?
Gas logs are the most realistic way to convert your fireplace to gas. For homeowners who want a realistic flame, but without the mess of wood burning, consider a gas log set. Initial cost is generally less expensive to purchase and install.
A gas line is required, but electrical is not required. The damper of your fireplace will be required to be clamped open permanently by code, which leaves an opening for heated air to leave the house or cold air to come in. You can get glass doors or an electronic damper to address this situation. Flu Sentinel electric dampers are a way to keep the open look of the fireplace and close the chimney off when it is not in use.
For safety any gas log system should be installed by a qualified and licensed service technician, such as Home & Hearth Outfitters NFI certified professionals.
What are the different styles and options?
Eiklor and Golden Blount are popular choices because of their realistic look and high quality craftsmanship. They also offer many design choices. There are many style, wood types and modern looks, like crushed glass, shapes and stones.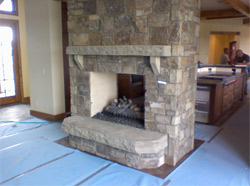 How do I prepare my fireplace for gas logs?
Our measuring guide located on our website will work for gas logs and will help determine the scope of the installation. Visit a showroom today to discuss your project with our team of designers.
What should I consider when deciding between a gas insert and gas logs?
A gas log set has the same efficiency as a wood burning fireplace. Gas logs are roughly 10 percent efficient and can cost between 75-cents and $1.25 per hour.
The cost also depends on the burner size (BTUs) under the log. The more BTUs you use, the more you pay.
Gas inserts have a higher efficiency. They use a considerable amount of less gas than log sets, roughly 40 to 45 cents per hour.
What are the standard venting requirements for gas logs?
Gas log systems need to be installed by a licensed plumber, gas fitter (or a qualified service technician in some places) in an all-vented, strong fuel burning, 'Class A' fireplace that is made of fire-resistant elements.
Fire-resistant fireplace ranging from a minimum of 16"
Fire-resistant lintel area ranging from a minimum of 12"
Fire-resistant materials extending out to a minimum of 6" on both sides of the fireplace entrance
A fireplace screen or glass doors should be installed while the gas logs system is in use. The fireplace screen needs to have entries for combustion air.
It's important to keep fireplace glass doors open while the fireplace is in use. However, if you use a fireplace screen, close it while you're using the fireplace.