Gas Firepit Logs
Custom Outdoor Firepit Logs
Homeowners looking for firepit logs for gas fire pits know that the premier destination for outdoor gas logs is at Home & Hearth Outfitters. With locations in Denver and the Vail Valley, satisfied customers know that once they have a gas fireplace or firepit installed at their home, they can turn to knowledgeable technicians at Home & Hearth when they want to replace their gas firepit log sets, or get the accessories they need for a new outdoor gas firepit.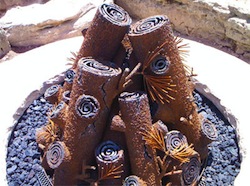 Selection, Installation and Service
The fine selection of gas fire pit logs is not the only reason backyard enthusiasts' call upon Home & Hearth, however. Service, installation and design of custom firepits and outdoor gas fireplaces are available from the experienced fireplace technicians at Home & Hearth Outfitters.
Those seeking to update, upgrade or add to their outdoor fireplace, will be pleased to know that both of our fireplace warehouses stock an extensive selection of firepit log sets. Popular and exceptional ooutdoor log sets include the Hirize from Eiklor and the Grand Firepit from Golden Blount, both of which are premium firepit log manufacturers that we proudly carry at our stores.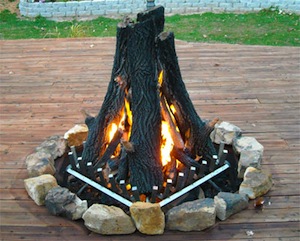 Hirize Firepit Logs
Hirize firepit logs from Eiklor are carefully hand painted. The tall log sets will add a very realistic look to your firepit. Eiklor gas logs are also constructed from ceramic materials noted for its superior heat absorption, which helps prevent the loss of heat. When it comes to a durable, realistic and long lasting product, this one truly can't be beat. Long-lasting burner systems made of stainless steel are used to provide every set of gas firepit logs with the basis for efficiently heating your outdoor patios and dining areas.
Golden Blount Outdoor Gas Logs
Golden Blount's Grand Firepit prides itself on the creative appearance of their outdoor gas logs. They offer gas log sets for both large and small applications. For those who need a traditional size in firepit logs, Golden Blount offers looks such as Super Six, Texas Stack, Split Bonfire, Texas Hickory, Round Mountain and Texas Bonfire to help you set the mood in your outdoor living areas. For those who have large outdoor gas fireplaces, substantial firepit log sets such as the Big Kahuna, Paul Bunyan and Big Tex styles from Golden Blount will fill your outdoor fireplace with a great amount of heat as well as an appropriate appearance.
Noted for their beautiful and realistic look in outdoor gas fireplace and firepit applications, Eiklor and Golden Blount gas firepit logs help save homeowners' from having to handle messy tasks. These include cleaning up ash and soot from real wood fires, for example. They are also easy to use-with just the flip of a switch or the touch of a remote control, you can have a fire blazing in your outdoor gas firepit in seconds. Let Home & Hearth Outfitters help you with all of your outdoor fireplace needs. We are here to help make sure your outdoor space is beautiful and usable.