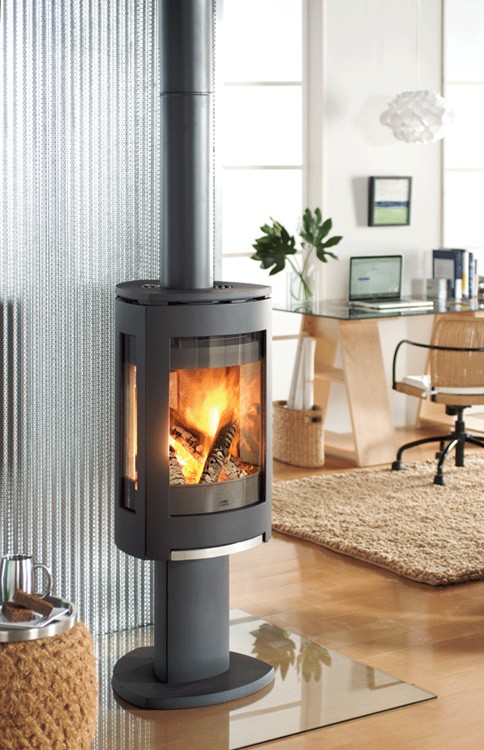 There is much to worry about when it comes to the health of the environment today – but thankfully great strides have been made to help air quality. Today, many leading manufacturers are working to bring the latest technologies to help make sweeping changes in improving air quality standards. Fireplaces are commonly thought of as a contributor to the problem, but the reality is that today's modern wood-burning stoves are highly efficient and clean-burning. Couple that with the fact that wood is a renewable, American-made energy source, and you have one of the best solutions in home heating available!
Jotul is one such leader in the fireplace industry that is committed to improving the efficiency of their products and improving our air quality. To help raise awareness and support wood as a clean-burning heating source, they are offering the Woodstove Changeout Program. Through the program, Jotul North America is donating $10 to the American Lung Association for every customer who exchanges an old woodstove for one of Jotul's modern, low-emission, wood-burning models. Home & Hearth Outfitters is a part of the exchange and is excited to have you to visit one of our locations or call to learn how you could make a difference by upgrading to a modern woodstove.
While North American industries have come a long way in cleaning up air quality, we feel it's important to take a moment to reflect on where we began in order to gain some perspective. During the late 19th century and much of the 20th century, the air quality of many urban industrial regions was rapidly declining, which dramatically affected public health.
With the establishment of the Environmental Protection Agency in 1969, environmental awareness was raised across the board. Over the past 40 years, this awareness has led to the creation of effective solutions that have greatly reduced airborne pollutants. Air over major cities is far cleaner and more breathable than it was even a generation ago.
We know the job isn't done – not by a long shot. While there are laws and regulations that are helping, clean air ultimately requires an active partnership between the public and the private sectors. That is why Home & Hearth Outfitters is pleased to be doing our part, along with one of our top suppliers, Jotul North America.
Jotul was founded in Norway more than 160 years ago. Needless to say, when it comes to the design and manufacture of freestanding wood-burning and gas-fired stoves, these people know their job. Jotul products continue to set the standard by which others are measured. As Jotul North America and its Norwegian parent company update their products for the 21st century, the company continues to make a commitment to cleaner air for everyone while providing the quality and comfort its customers have come to expect.
In keeping with this tradition, they have recently they have started the very successful Woodstove Changeout Program. As part of the program, Jotul North America is donating $10 to the American Lung Association for every customer who exchanges an old woodstove for one of Jotul's modern, low-emissions wood-burning models. To date, Jotul North America has raised $14,500 for the ALA's ongoing research and education efforts.
Home & Hearth Outfitters is proud to be part of the Woodstove Changeout Program, and we'd like to let our customers know that there has never been a better time to get one of Jotul's modern, cleaner-burning woodstoves. Get yours today and make the air a little better for everyone while increasing your own comfort levels this winter!