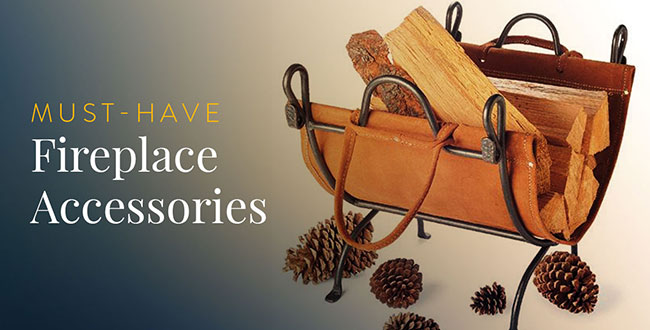 A fireplace is the main attraction and focal point of your living area. In order to get the best use of your fireplace, having the right accessories is essential. Fireplace accessories need not be solely utilitarian in purpose as they now come in a variety of designs and styles to match the décor of just about any home. In fact, fireplace accessories can enhance the look and feel of the fireplace, adding to and even enhancing the ambiance of your home. Read on to learn more about choosing accessories that are just right for you.
Any home with a fireplace should be equipped with these essential accessories:
Tools (like a shovel, poker and brush)
Screen
Firewood holder
Blower/bellow
Remote (for gas and electric fireplaces)
Tools
Essential tools include a poker, shovel, tongs, rake and brush. Tool sets include all the tools you'll need plus a stand to display and store them right near the fireplace so they're always on hand when you need them. Tools sets are essential for wood-burning fireplaces and will help ensure you enjoy warming fires that burn efficiently.
However, all tool sets are not created equal. While functional, tool sets are available in many styles, including antique, modern, vintage, craftsman and Victorian. Sets can be large or compact, depending on the size of your fireplace, home and preference. Tool sets are also available in different finishes such as bronze, brushed bronze, burnished bronze, black, matte black, cast iron, vintage iron or steel. These essential fireplace tools will likely be visibly on display, so take the time to choose the set that's perfect for your home.
Screen
Fireplace screens are must-have so that you can enjoy your fires safely – and in style. Home & Heart Outfitters' collection offers many different screens to choose from; varying by design, profile and finish. Depending on the size and location of your fireplace, you may want a screen that is flush with the front of your fireplace, such as the Flat Panel Screen, and will use minimal space with its linear, modern design.
If space is not an issue, a contoured screen, such as the Grapevine Tri Panel Screen, is a more distinctive and ornate option and has the added benefit of keeping kids and pets further from the flames. Screens can be made from iron, pewter, copper or graphite. They also come in a range of styles, from flowery and designed to simple and classic, offering a variety to choose from to match your home décor. If your redecorate your home, don't forget to reassess (and possible replace) your fireplace screen so it isn't a mismatched eyesore.
Firewood Holder
Wood holders can be stylish and help you keep your living area organized and clean – at least of wood debris. Firewood holders are available in a range of sizes so they don't take up much room but will make it easy to keep clean, dry wood on hand.
You may select a metal wood holder, in brushed copper, to match your fireplace screen. Or perhaps you would like something a bit more functional, like the Traditions Wood Holder which includes an iron stand to mount a removable caddy with handles that enables you to easily carry wood indoors.
Blowers (Bellows)
A blower or bellows is a device with an airbag that blows air into a fire, to accelerate burning. Much like tools, screens and wood holders, bellows are available in different sizes and styles to match your taste. Don't be left in the cold – be sure to include a bellows in your list of must-have fireplace accessories.
Remote
Electric or gas fireplaces offer warmth and convenience without toting wood and cleaning hearths. To add to this convenience, different remotes are available that help you manage the temperature of your living area without getting up from your seat. Remote features can include all-battery powered models, touch screens, LCD displays, timers, child locks and backlit screens. Starting a fire and managing your comfort has never been easier.
Choosing the right accessories for your fireplace from the variety of options offered by Hearth & Home Outfitters is one way to make your home your own and improve the safety, appearance, efficiency and usability of your fireplace.