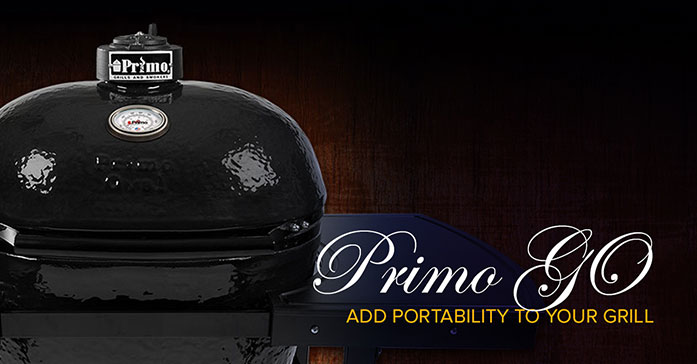 Just in time for backyard cookouts, picnics and tailgating, Home & Hearth Outfitters is proud to announce that it will be carrying the all new Primo GO portable grill stand starting this spring. Primo ceramic grills have long been a favorite among BBQers for their versatility. Now, the new Primo GO adds convenient portability to your grill, allowing you to take your outdoor cooking adventures even further.
The Primo GO is a two-piece cradle and base that allows the Primo Oval JR 200 egg-shaped grill to become easily portable. The standalone base and cradle mean you don't need a dedicated grill cart.
The Primo GO comes with a cradle that snuggly fits the Oval JR 200 and features handles, making it easy for two people to pick up and move the grill. The GO kit also includes a stand that adds extra height to your grill. The two pieces can be used together or you can simply take the cradle. This dual-use set up means your grill is just as easy to use in your backyard on its base as it is on a picnic table or in the bed of your truck at a tailgate. The cradle keeps the grill steady without the stand.
When used together, the grill and cradle are securely attached to the base by four sturdy pins. If you want to take the grill with you while leaving the base behind, simply pop out the pins and carry away your grill in its portable, sturdy cradle. When you're not using the base, it conveniently folds up for compact storage. This grill is a great option for those who like to store their grill in a dry place away from the elements during the winter. The Primo Oval JR 200 stands securely in the cradle alone and the base can be folded up for easier storage. When broken down into two pieces, the grill and Primo GO can comfortably be stashed in a shed, garage, basement or trailer until next grilling season.
With the GO rig, Primo offers the largest portable ceramic, "kamado" style grill on the market. The Oval JR 200 features 210 square inches of cooking area – enough to comfortably cook for 10 or more people. The optional rack system increases the total cooking area to 360 square inches – more than twice the cooking surface of other portable ceramic grills.
Primo's ceramic, egg-shaped grills allow you to grill, bake, roast or smoke, and with the Primo GO portable grill stand you can make all your favorite dishes where ever you are.
Stop in at a Home & Hearth Outfitters showroom to see the new Primo Go for yourself. We love the entire line of Primo Grills and accessories and we're excited to introduce you to these top rated charcoal grills.