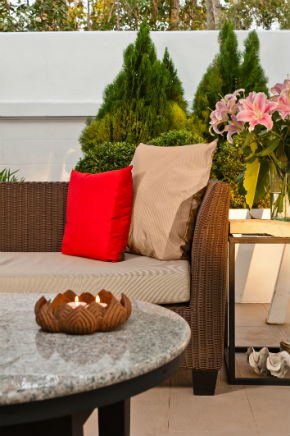 Spring has sprung, and that means it's time to come out of hibernation and enjoy the Great Outdoors once again. With Colorado's ample sunshine, many people can use their outdoor patio furniture throughout the year (except for those times when it's covered in a foot of snow).
If you're ready to replace your existing outdoor furniture, or if you're planning to furnish your outdoor patio for the first time, there are plenty of options for outdoor living. It is easy to get overwhelmed, but there are a few things you can do to simplify your choices and make shopping for patio furniture a fun process.
Write It Down
Begin by thinking about how you'd like to use your outdoor living area. How would you like your patio to function? Will it be used as an outdoor dining area? Do you see yourself lying back in the sun with a cold drink? Are you envisioning a cozy area for friends and family to gather, talk and play games? Maybe all of the above?
Break out the pencil and paper to begin a list of what you need to get the most out of your outdoor space. This will help you narrow down what type of patio furniture you'll be looking for to achieve your vision. For instance, if you see yourself grilling and dining on your patio, an outdoor dining set will be at the top of your list. If you're more interested in using your space for entertaining friends, you might want to consider an outdoor bar with some comfortable bar stools. Taking the time to jot down these ideas now will save you time in the long run.
Test It Out
You may have found the outdoor settee of your dreams but don't make that purchase until you've taken it for a test run. Think about it: Would you buy a living room set without sitting on the couch to make sure it is as comfortable as it is attractive? No way! Why should your patio furniture be any different? People get a lot of use out of their outdoor patio furniture in Denver. Make sure it is exactly what you want so you can enjoy that beautiful spring afternoon for long summer night in comfort and in style.
Easy Care
When shopping for your outdoor furniture, be sure to opt for something that will take the least amount of maintenance. Most quality patio furniture is made of easy-to-care-for material that will stand up to the elements and last for years to come. After all, you want to spend your time enjoying the furniture, not maintaining it or repairing it.
High Quality
What they say is true: You get what you pay for. Keep this in mind when you're browsing for your new patio set. While you may be tempted to save a few bucks, you may also be sacrificing the quality and longevity of your purchase. Investing in high-quality outdoor furniture will ensure that you'll be enjoying it for years to come, and it will stay looking just as beautiful as the day you bought it.
With these tips in mind, you're ready to find the perfect outdoor furniture that will transform your space into the patio of your dreams. With your new patio set, you can get outside, soak up the Colorado sunshine and then stay to watch the stars in comfort and style.