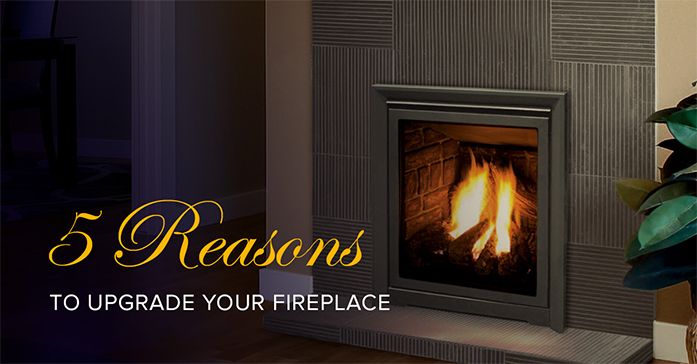 A fireplace is a popular feature to have in a home, and in older homes it was originally a valuable source of heat. Today they're prized as room focal points that add extra ambience when lit. Over the years, however, an old wood-burning fireplace can become less efficient, a hassle to maintain and a source of dirt and mess in a home. Some older fireplaces may also have inherent design flaws that make using them harder than need be.
Getting rid of the fireplace isn't an ideal option because you'll lose the character it adds to the room. (Plus you may inadvertently be lowering the resale value of your home!) Updating your old fireplace is easy and comes with several benefits that will make your love your fireplace even more.
Here are five convincing reasons you should consider updating your fireplace.
Save money
Older fireplaces can be drafty and aren't an efficient heating source – 90% of the heat escapes through the chimney rather than entering the home when using a traditional wood burning fireplace. When you're running the heat in the colder months some of it likely is escaping through the chimney or settled fireplace surround, sapping money as much as a drafty window or door.
This problem can be easily solved by upgrading your old fireplace with a wood or pellet burning insert. Unlike freestanding wood or pellet stoves, inserts fit nicely in pre-existing fireplace openings. They're generally sealed with a door, eliminating the draft problem. These highly efficient units create less mess since they're enclosed and will keep smoke from getting into the house. These styles of inserts can also heat a larger area than traditional fireplaces.
Replacing your wood burning fireplace with a gas or electric fireplace is another cost-saving option. This allows you to preserve the focal point but seal off any drafts as gas and electric units are typically fully enclosed in glass. However, these units give off less heat. If you're interested in a heating alternative a pellet burning insert is the best option.
Increase the value of your home
Realtor.com listed fireplaces as the home feature most often mentioned in house listings – beating out other hot, "must-have" home features like hardwood floors, granite countertops, stainless steel appliances and even central air. Because fireplaces are such desirable features, having a home with a lovely, new, efficient fireplace can increase the value of your house.
A study by the National Association of Realtors found that 40% of homebuyers were willing to pay more for a home that had at least one fireplace. The National Center for Real Estate Research found that a fireplace can increase the value of a
home by 6-12%.
Gas and electric fireplace inserts are more energy efficient and create a smaller carbon footprint since they don't emit smoke. Being green is a popular feature with today's environmentally conscious homeowners and home buyers. Having a beautiful fireplace that you can additionally list as energy efficient and recently updated can add value to your home when you're ready to sell.
Update your home's look
While a fireplace itself is a timeless home feature, trends and designs come and go over time. You might find yourself loving the idea of having a fireplace but hating the ugly monstrosity in your home – especially if its aesthetic doesn't match the rest of your home décor and design.
A simple facelift and upgrade can dramatically update the look and efficiency of your existing fireplace. The clean, contemporary lines and easy-use of gas or electric fireplace inserts is popular right now. These units are easier and cheaper to run and maintain and match the modern look of popular home design right now. The inserts themselves are also simplistic enough to allow for additional personalization and style with the fireplace surround or added mantel.
Make your life easier
Getting a fire going in a wood burning fireplace can be a tedious task. You need to have logs and kindling on hand, ensure the flue is clean and open and actually get the fire roaring. Once it's done there's a mess of ash to clean. Overtime soot and other debris for the fireplace can dirty walls, windows, curtains and upholstery. While the crackling sound of a wood fire is pleasant, the physical work required to own and operate a wood burning fireplace means many homeowners never light their hearth.
Gas and electric fireplaces offer a much easier fire experience. These units operate at the flick of a switch or touch of a remote. Since no logs are burning they don't require ash cleaning and don't produce smoke that will permeate the rest of your room. These modern fireplace options allow homeowners to maintain the fireplace focal point without the hassle and work of an older fireplace.
Improve home safety
Parents of small children or pets often worry about their loved ones near the open flame of a fireplace. Even fireplace screens offer little piece of mind. Screens can be moved or pushed over and can get hot to the touch when they're directly in front of a roaring fire.
Opting to replace your wood burning fireplace with a gas or electric insert eliminates this threat. These fireplace models are fully enclosed, meaning little ones and animals can't get near the flames. New safety regulations are also making it so that the front faces of these fireplaces don't get hot enough to burn if they're touched. A thin mesh screen or double pane of glass is now required to be added to all glass-walled gas fireplaces to dissipate the heat.
Updating your fireplace is a simple way to increase home efficient, safety and aesthetic, making you happy you have this beautiful design feature in your home.